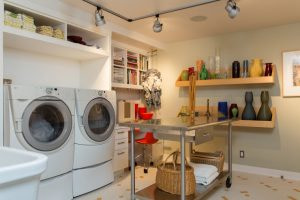 Having a space in your home to do laundry is a real luxury, and laundry rooms are popular home additions in Northern Virginia. In recent years, laundry rooms have been taken to a whole new level with custom shelving and storage, deluxe counter space, and sparkling paint jobs. Clever homeowners in Northern Virginia are now finding new ways to make the laundry room pull double duty, getting more use out of every inch of space in their homes.
Mud room
If your laundry room is placed at the entrance of your home, it can double as a functional mud room. It's wonderful to have a designated entry space to drop shoes, backpacks, sports equipment, and coats. Creative built in storage keeps everything organized. Consider creating individual pegs, hooks, and bins for each family member.
Mail station
A mail station is also a great choice if your laundry room is near the door. Instead of letting junk mail and papers clutter up the house, you can sort them immediately. Include a recycle bin for discarded paper, and a shredder to eliminate mail with personal information on it. This area can also be a bill paying station, so the bills are all sorted, organized, and paid in the same place.
Potting room
If you're a plant and flower lover, having a potting and arranging area in your home is a treasure. The laundry room is the perfect place to create a pretty space for your hobby. Include a sink, durable counter tops, and under counter bins for soil, vases, and planting supplies.
Linen closet
What could be nicer than storing your freshly laundered linens neatly on shelves? There's no time for them to get wrinkled or disorganized when they are going directly from the dryer to their proper storage space.
Crafts and gift wrapping
Add a table or counter tops to your laundry area and you'll have a great space for crafting and gift wrapping. Organize craft supplies on custom built shelves and cupboards, and soon you'll be indulging in your favorite hobby without disrupting the rest of the house.
There is really no limit to what you can do with the extra space in your laundry room. Analyze your needs, use your imagination, and you could soon be using that square footage to its fullest potential. Your home renovation will result in a pleasant room that is useful for the whole family.