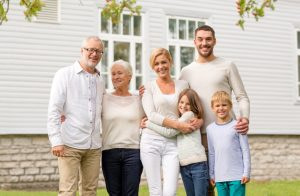 In years past, it was very common for many generations of one family to live under the same roof. That changed after World War 2, when children wanted to branch out into their own space. Since the Great Recession, however, multi-generational homes have come back in full force. There are benefits for everyone. Grandparents help with grandchildren to offset the high cost of child care. Families save the huge expense of a nursing home for elderly parents. Young adults who are victims of a bad job market stay home and contribute to the household. In addition to the financial benefits, everyone enjoys the opportunity to really know one another as family.
What's multi-generational?
A multi-generational home is defined as a home that includes grandparents and grandchildren, or a home where there are two or more adult generations. They can also be known as Mother-Daughter homes. According to Pew Research Center, there are now a record 60.6 million Americans living in these households. These days, young adults are most likely to live in multi-generational homes. In 2014, 31% of young adults ages 29 to 34 were living with their parents.
Making your current home a multi-generational home
You may be able to modify your existing home to make it comfortable for everyone. There are lots of options. Check with Daniels Design and Remodeling about Northern Virginia zoning laws in your area for an addition. An addition that includes a bathroom, living room, bedroom, and kitchen space can be added to your existing home.
If your home has a walk out basement, you can modify your basement into an in-law apartment that can be used for grandparents or older children. An attached garage also offers plenty of space to create a pleasant apartment. On a smaller scale, converting a den to a bedroom and dedicating a second bathroom to Mom might work for your family. You also may be able to design your home with two master suites.
Our team will have a consultation with you and we will go over the needs of everyone in the household to find out what option will work best for you. Turning your home into a multi-generational home could be a great idea for your family. Call us today to start the conversation!