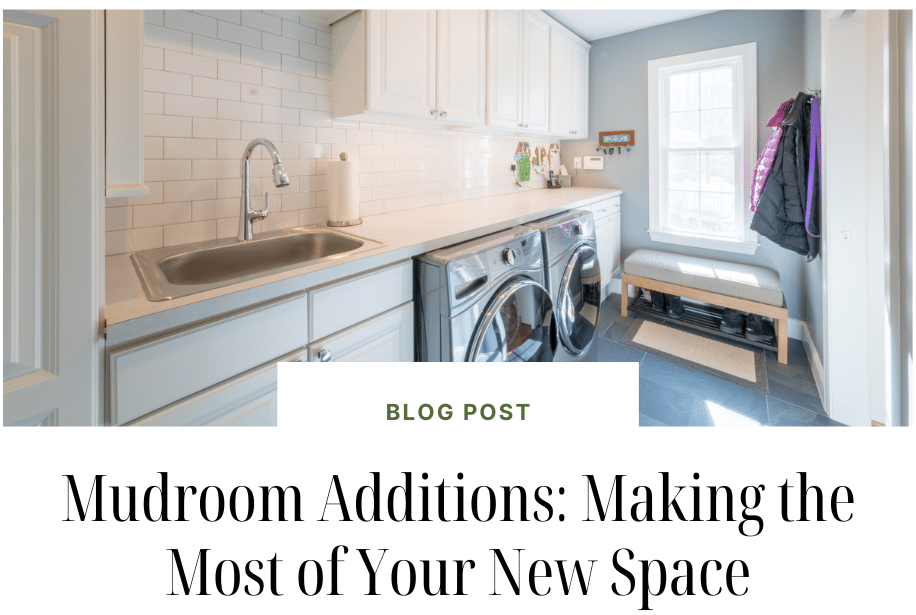 If you're always tripping over shoes, tracking mud and water onto the floor and have nowhere to store your coats in a tiny front hall closet, you need a dedicated space to be messy. Mudrooms may have started purely as a place to peel off outerwear, but they also do so much more. These spaces may serve as your entryway, laundry room, storage and more!
A mudroom can make your home more livable by creating storage space, reducing clutter and offering a welcoming entrance into your home.
Read on to learn all about making a mudroom addition to your home.
The Benefits of Adding a Mudroom to a House
Mudrooms serve many purposes, depending on how you build them and your unique needs. As a part of your mudroom addition, we'll work with you to prioritize how to best utilize the space.
A mudroom allows you to:
Keep shoes and coats out of the way.
Store dirty outdoor gear, like gardening gloves or rain boots.
House your washing machine and dryer.
Create a welcoming entryway for your family and guests.
Protect the rest of your home from rain, snow, slush and mud.
If you're not sure what you want from your mudroom, use our Remodeling Toolkit to get inspiration before contacting our designers. Set your mudroom goals and we'll help you meet them.
Does Adding a Mudroom Add Value to Your Home?
Mudrooms can add value to your home, especially as an addition that adds square footage. Even just converting an existing room to serve as an entrance or laundry room can add value, especially if you optimize the storage potential of that space.
Mudrooms are primarily utility rooms, but that doesn't mean they can't be beautifully designed, too. We'll work with you to make your mudroom match your home's overall design to create a space that feels welcoming and impresses potential buyers.
Related: Upgrades Worth Doing When Home Remodeling
Getting Creative: Our Favorite Ideas for Mudrooms
It's best to add a mudroom at your most trafficked entrance. Think of the entry point you and your family use day in and day out; that could be the front entryway kitchen door, attached garage or back entrance to your home. Pick the location that makes the most sense for you!
Entryway Mudroom
Tired of wet coats and dirty shoes moving through your front living room? Add a mudroom bump out to the front of your house! If you have a front porch, you can convert it to an entryway mudroom for a more budget-friendly plan. Entry mudrooms are usually relatively small, but you can choose your design based on your needs.
If you love entertaining or have a big family, the entryway is often a hot spot for shoes and coats. Give them a dedicated space with a coat closet near the door. Add a storage bench that doubles as a place to sit while you lace up your shoes. Finish it off with a small table by the door and you have a place to store your wallet and keys where you won't forget them on your way out the door!
Kitchen Mudroom
A mudroom that opens into the kitchen is great for homeowners who want their mudroom to double as a laundry room. It's easier to add plumbing when building next to a room that already has water running to it.
Adding a mudroom in your kitchen adds extra storage for outerwear and kitchen items, too. Use your mudroom-kitchen combo as a pantry, to store little-used holiday dishes or as a place to keep pet food. It's also a handy place to store cleaning supplies, making it more convenient to clean up!
Garage Mudroom Addition
If you enter through your attached garage, you probably need room to clean off before entering the rest of your home. A mudroom section in your garage is the ideal transition space, as well as providing the other benefits of a mudroom.
A freestanding shelf or nearby closet provides a great space for storing coats, shoes, and outdoor gear. Create separate cubbies for each kid and hang their backpacks up to grab on the way out to the car. A hook beside the door provides a place to hang reusable grocery bags so you always remember to take them with you. Add a heavy-duty mat to the floor to avoid tracking oil or other garage debris into your home. You can even transition the space into a home gym, using the mudroom to store equipment and workout gear.
Side or Back Entrance Mudroom
An awkwardly placed side or back entrance can mean going right from outside to your living or dining room. A mudroom softens that transition and prevents people from tracking dirt, grass, and other litter into your home.
Looking to add even more utility? Section off a portion of your mudroom addition for a half bath. This is especially helpful if you have a backyard hot tub or pool; people can change and use the bathroom without leaving wet footprints on the carpet or hardwood.
Related: 4 Reasons a Home Addition Might Be Right for You
Adding a Mudroom: Planning a House Addition vs. Renovating an Existing Room
There are two ways to add a mudroom to your home: by adding more square footage or by converting space you already have. Both have their pros and cons.
Reasons to Convert Existing Space
A mudroom renovation is less expensive than a full addition and takes less time. We can convert a large closet or pantry, or use part of an existing kitchen, den, entryway or other room. Bespoke storage solutions can add new life and utility to the space you already have. However, if you're already feeling cramped, taking square footage away from the rest of your home can make things feel even tighter. You're also limited to designs that work within the available space.
More Space, More Options
A mudroom addition requires a larger budget and more time, but it offers greater design freedom. You can create a spacious room with all the storage and amenities you need.
Design Your New Mudroom with Help from Our Expert Designers
Whether it's a renovation or an addition, the expert designers at Daniels Design and Remodeling can help bring your perfect mudroom to life. From design to construction to finishing touches, we work with you at every step of the way, answering questions and making sure your mudroom takes shape just the way you want. Schedule a conversation and see what's possible!