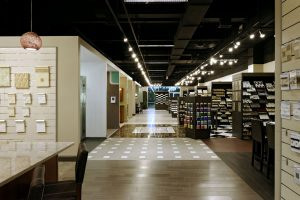 Daniel's Design and Remodeling works with only the best vendors in the business. We are proud to work with Mosaic Tile in Alexandria, VA, Fairfax, VA and Chantilly, VA. Mosaic Tile provides an incredible variety of tiles that can be customized for your project. They are a family owned business founded in 1972 by Bob Hughes, Sr. Since then they have upheld their promise to offer unique, high quality tile for kitchens, bathrooms.or any project.
Bob's son Robby Hughes now is president and CEO of Mosaic Tile. They have one goal and that is to provide the best customer service possible, and the best selection. With this motto and their great team, they have grown to be the largest largest independent tile distributors in the Mid-Atlantic region.
Mosaic Tile has well-known suppliers from around the globe, so they provide Daniels Design and Remodeling the best quality, high-end tiles. These include unique choices like textured stone, glass, polished porcelain, metal and classic ceramic are just a few of the choices that will make your project one of a kind. You'll find exactly what you need in color, size, style and price.
Mosaic Tile also offers a wide range of classic choices like ceramic, porcelain, and natural stone like marble, limestone, Travertine, slate and quartzite. These are available polished, brushed, honed or natural.
When you are looking for the perfect unique tile for your project, Daniels Design and Remodeling trusts the professionals at Mosaic Tile to provide exactly the right materials. Stop by their showrooms in Alexandria, Fairfax and Chantilly, Virginia to check out the selection.