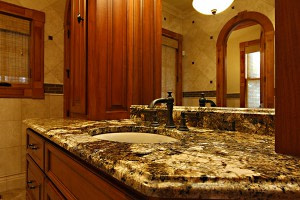 There is no reason to settle for bland counter tops in the master bath any longer. Today, there is an incredible range of options that will suit your taste, architecture and budget. When you decide it is time for an Arlington, VA master bath remodel, take time to familiarize yourself with all of the materials that are available.
Granite
Granite still remains king of master bathroom counter top choices. It's durability and beauty mean it is the go to choice for luxury bathrooms. Granite comes in such a wide variety of colors and patterns that you'll always find something that perfectly compliments your master bathroom's style.
Alternative Stone
Other stone options are gaining popularity in Arlington,VA master bath remodels. Limestone, slate, soapstone and travertine are more unusual that granite, and make your bathroom counter top a unique, stand-out piece. The more neutral tones give your bathroom plenty of natural beauty.
Marble
If you are looking for elegant good looks in your master bath, marble counter tops offer timeless beauty and elegance. You can get marble in solid black or white, or in a variety of colors and no two slabs are exactly alike. It is heat resistant so styling tools are not a worry, but it is more porous than granite and requires occasional sealing.
Corian
DuPont's Corian solid surface counter tops have a signature flowing look, and are practical because they are easy to maintain. Our designers can custom cut these counter tops to fit any bathroom design, and it also comes in a variety of colors.
Quartz
Quartz is an engineered material that is both beautiful and expensive. In fact it is probably the most expensive counter top option. The price depends on the grade of quartz you select, and it comes in many different styles and colors. If you're looking for the ultimate in high-end luxury in your master bath, consider installing a gorgeous quartz counter top.
Dainel's Design and Remodeling will be happy to assist you in choosing the perfect counter top for your Arlington, VA master bath remodel. With all the beautiful choices available, you may decide to renovate every bathroom in the house!