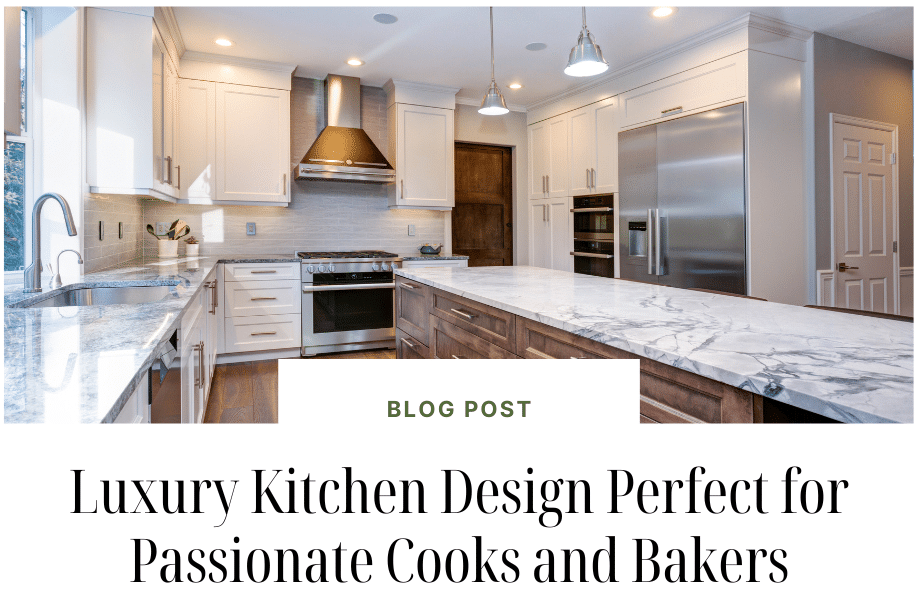 Stop drooling over the latest and greatest kitchen designs and make a change! Bring the glamor and practicality of high-end kitchen design home with the bespoke remodel you've always wanted. If you love to cook or bake, choosing the perfect residential chef's kitchen design can take your passion to the next level.
Kitchen Layout Planning: A Guide
Homeowners who spend time cooking know a great kitchen is so much more than new appliances. Planning your kitchen layout ensures the right amount of space to move freely, utilize countertops and keep stored items handy. We've put together a few kitchen layout design tips to consider.
Build the perfect chef's kitchen design with all the counter space and appliance access you need! You can work your kitchen layout design into your existing space or choose to build a home addition to get exactly what you want.
The Best Kitchen Layout for Cooking at Home Regularly
The perfect chef's kitchen design is all about making sure the layout works for you. Everyone's personal needs and tastes are different, but the most important factor of a good kitchen layout is space. You want enough room to move and work – especially if you plan to share cooking duties with someone else – without spacing things so far apart that it's awkward to get ingredients from the refrigerator to the countertop.
Choosing your kitchen layout takes careful consideration; check out these common configurations to get you started.
A U-shaped kitchen design has counters and cabinets on three walls. It is considered one of the most versatile layout shapes for cooking. It allows plenty of freedom of movement while keeping things conveniently close at hand. This layout allows you to create an efficient food prep work triangle between the refrigerator, cooktop and sink.
The G-shaped variant features three walls of counters and cabinets with a partial fourth wall. This kitchen design is ideal for allowing two chefs to work separately. It creates more division between the kitchen and adjoining rooms, which could be a pro or a con depending on your preferences.
L-shaped kitchens, with countertops on two adjoining walls, are one of the most common kitchen layout shapes. If you have a smaller kitchen or want to keep an open layout, this is ideal. You can add a kitchen island for extra workspace without disrupting the flow between rooms.
While kitchen islands aren't a design of their own, they can be seamlessly integrated into all sorts of kitchens, expanding your counter and storage space.
One-wall and galley kitchens are less ideal for dedicated cooks. One-wall kitchen layouts frequently lack the storage and counter space a chef or baker needs. Galley kitchens often end up as walkways for non-cooks, since they tend to have doors to other rooms on either end.
U- and G-shaped kitchens are best for larger homes with well-defined layouts. They help create a sense of separation between the kitchen and dining area. If you have a lot of room to work with for your kitchen remodel, consider one of these floorplans. For smaller homes, we recommend an L-shaped layout with the possibility of an island.
Related Content: Planning Your Kitchen Remodel With a Load-Bearing Wall
What to Put in Your Chef's Home Kitchen
Making your kitchen truly yours is all about the details, from the cabinets you choose to the kind of oven you want. Here's what to consider when building your dream kitchen.
Decked-Out Appliances
With dozens of new high-tech kitchen appliances available, many homeowners have a hard time deciding which to bring home!  A large refrigerator is often a good choice, to store ingredients (and leftovers) without having to cram. While professional chefs often traditionally preferred gas, many are choosing to adopt induction cooktops to avoid the health risks of natural gas. If you like hosting large gatherings or just want to cook dinner and dessert at the same time, a double oven is a must-have.
Storage, Storage and More Storage
Storage space is vital to make sure you have plenty of room for all your cooking and baking gear. A pot and pan rack can allow you to proudly display pans as well as keep them handy for making meals. Lazy Susan corner cabinets make sure no square inch goes to waste. Try adding a spice rack to one of your drawers to keep everything from allspice to za'atar organized and ready for your next dish.
Upgrade Your Necessities
There are all sorts of practicalities you can build into your kitchen as well, from butcher block countertops to beautiful and functional vent hoods. Just because something is practical doesn't mean it can't be beautiful as well. Check out heat-resistant countertops for cooks who need to juggle lots of hot pans. You may choose to include a cabinet-style refrigerator or dishwasher, to blend aesthetics and function.
Uniquely You Features
Make your kitchen truly yours with the bespoke features you want! A smart fridge lets you keep a grocery list as you use up your ingredients. Shop for only the most energy-efficient appliances to lower your carbon footprint. Add a niche installation suited to the way you cook, like a wood-fired pizza oven, a warming drawer or a wine fridge. Your kitchen should be truly yours, whatever that means to you.
Get inspiration from the latest trends or take our design quiz to get ideas on what you might like.
We'll Bring Your Luxury Kitchen Design Ideas to Life
Whatever your dreams for the perfect home kitchen, we can help make them your reality. Our experienced designers have worked with kitchens of all shapes and sizes. We'll take your current cook space and turn it into the sort of luxury space a chef or baker can be proud of.
Schedule a conversation to start designing your dream kitchen today.