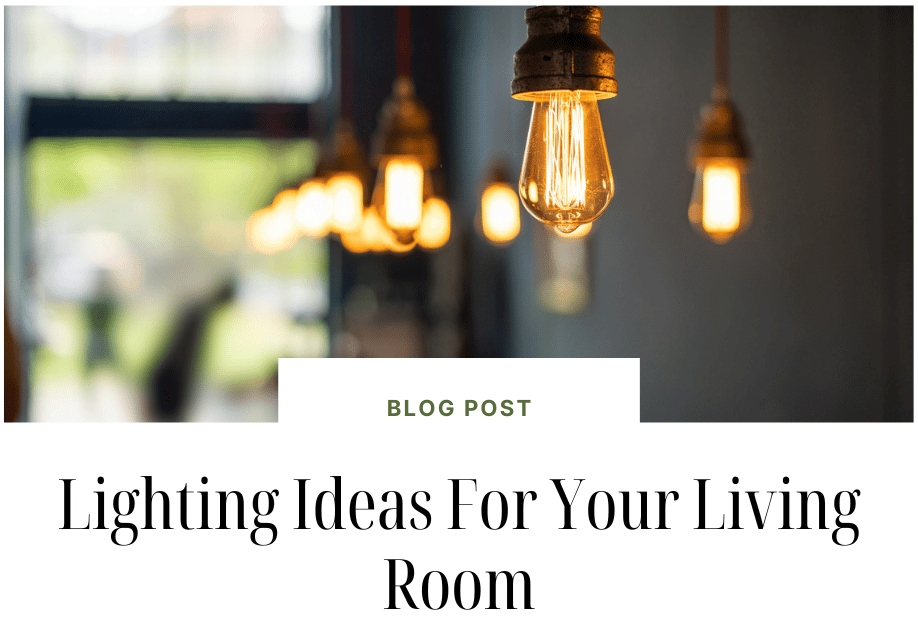 It doesn't matter what your home's style is, you need to have the right lighting selections in each space. One of the most important rooms in your home is your living room. It's where you spend a lot of your time and a place you can go to entertain guests.
You want to make sure the lighting is always right for the mood, time of day, and ambiance you want to create. Here you can learn some lighting ideas for your living room that will help you plan your lighting and ensure you take the right approach with your design.
Mix it Up
An ideal lighting design for your living room focuses on using a mix of solutions and elements. Consider using a variety of different light sources that offer different levels of lighting. Incorporate several fixtures to add layers of light that you can turn on and use together or separately. This will ensure that you are creating a more flexible space. The more lighting options you have the easier it'll be to create the right environment.
Use A Fixture to Create A Focal Point
Another lighting idea for your living spaces and room is to install a focal fixture. You can have your main fixture act as your focal point and what catches your eye when you enter the room. It's also an opportunity to use art, creativity, and a pop of color in your lighting design. Choose the perfect fit and you'll be able to make certain your fixture makes a statement and brings the room to life. One way to ensure your lighting stands out is to hang an elegant chandelier right in the middle of the room. It's a great idea if you have high ceilings and want to make a grand gesture.
Add A Variety of Lamps
Adding a few different lamps to your living space will make it functional and cozy. Lamps are a great way to add warmth and will allow you to set the right mood when the evening hours come around. You will want to have lamps in your living space when you want some light for reading or when you're watching TV, for example.
Consider adding a floor lamp as well as a table lamp or two, or hanging a pendant lamp if you're going for a more industrial look and feel. You can choose an oversized lamp if you want a more dramatic look or a sleek and slim standing lamp if you're after a minimalist appearance. A lamp is an excellent way to illuminate a dark corner of the room too.
Brighten the Mantel
If there is a fireplace in your living room then you're one of the lucky ones. In this case, don't leave it dark and dreary. Instead, install some sconces above it or you can add a pair of candles or small lamps that can be displayed directly on the mantel. You'll love having this as a lighting choice throughout the year, especially in the wintertime. Use a spotlight to highlight your mantel or put a spotlight in a nearby display case that shines on your favorite décor items.
Install Dimmer Switches
When it comes to lighting ideas for your living room, you should also think about installing dimmer switches. This way you can illuminate your space as much as you'd like or keep the lights low and dim, depending on the mood and atmosphere you're trying to achieve. It's yet another way to make your living room a lot cozier.
Create A Gallery Wall
As you take a look at your living room lighting options, another idea is to create a gallery wall with lighting. It's similar to that of a photo gallery wall but you'll use lights instead. It's a chance to introduce some interesting and unique wall lights to your home. It's also an opportunity to make a bold statement and will be something a bit different when it comes to the aesthetics of the room. If you are someone who is into neon lighting then this may be your chance to incorporate these types of lights into your lighting design.
Conclusion
These are just some of the top and most popular lighting ideas for your living room. They're practical, attractive, and will have you spending more time in this space. We understand this and home remodeling can be a tough project to tackle on your own. Therefore, don't be afraid to reach out and get in touch with Daniels Design and Remodeling team for additional ideas when it comes to home renovation and luxury remodeling as well as lighting up your home and living space.