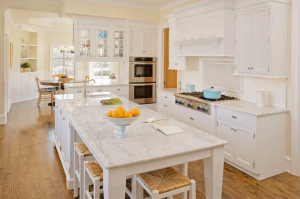 When it comes to Northern Virginia kitchen remodeling, one of the top items on everyone's must-have list is a kitchen island. Once you have an island in your kitchen, you won't know how you lived without it. It adds fantastic counter and storage space, and provides a natural space for everyone to gather. There are many different types of kitchen islands to choose from, and it's important to pick one that matches your style, budget and needs.
Food prep
If your island is mostly going to be used for food prep, make sure there is an abundant counter top. It's also a good idea to choose a counter top you can chop on, like butcher block or granite. Include a sink in your food prep kitchen island to save you some steps. You will also want to make sure you have ample, direct task lighting for your cooking area.
Dining and gathering
For cooks, one of the best things about a kitchen island is that it gives family and friends a space to gather and talk while you cook. An island is also the perfect spot for breakfast and lunches. Extend the counter top over the storage space so there is a place to tuck in stools and for people to put their legs.
Add levels and creative storage.
Underneath an island is the perfect spot to add multi-level storage to your kitchen. Custom designed kitchen islands can accommodate anything you need it to, including appliances like trash compactors or drawer refrigerators. You can also add creative storage like customized shelving or wine racks.
Go over the top.
The space above your island should not be overlooked. It can be used to display your best stemware or pans, or create suspended storage. It's also a great spot to add drama to your kitchen with an amazing light fixture.
Talk to Daniel's Design and Remodeling about all the fantastic ways you can use your kitchen island. We will be happy to customize it in any way you like, with great storage, appliance, lighting and seating options. Call us today to start the coversation!