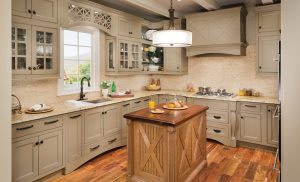 When you are planning your Northern Virginia kitchen remodeling project, one of the most important decisions to make is the style of your kitchen cabinets. There is such a variety to choose from you may not know where to begin. Initially, you will have to decide whether  you are going to match your cabinets to the home's existing style or go a different route. Here is a brief description of some of the kitchen cabinetry styles to choose from.
Shaker Cabinets
Shaker cabinets are best know for their simplicity. They go well with both contemporary and traditional design because of their timeless, classic look. Shaker cabinets can be painted to match your decor, but colors like white or grey are usually chosen to highlight their simplicity. More often they are left plain or stained to highlight the natural beauty of real wood.
Contemporary Cabinets
Contemporary Kitchen Cabinets have a sleek, minimalist look. This usually means flat, unadorned cabinet fronts that can be painted bold colors. It is the current style and closely resembles Modern kitchen cabinets which have clean lines and give your kitchen a more spacious look. Both are usually made of man made materials like metal or plastic, but wood veneer can be added to give it a warmer look.
Rustic Cabinets
Going with a more rustic look gives your kitchen a country feel that has lots of character. These cabinets are usually made of classic, durable wood like oak or pine. These are stained in warm hues with matte finishes to give a more rugged feel. Choose distressed or antique hardware and you'll have a stylish and inviting look.
Frameless European-Style Cabinets
This type of cabinetry is characterized by its lack of frame and easy accessibility. These are made of only the side panels of the cabinet, and the door is attached directly to the sides with no frame. Frameless cabinets can give your kitchen a sleek look and are great if you are short on space.
Whatever kitchen cabinet style you choose, it is sure to complement your Northern Virginia Kitchen remodel. Call Daniels Design and Remodeling to get started today on the kitchen of your dreams. Our professionals designers are waiting to help you choose the kitchen cabinet style that will suit your home perfectly.