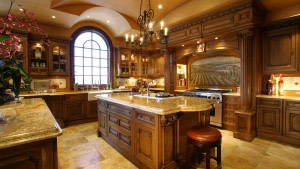 When you envision your dream kitchen or bathroom, you probably think of the entire renovation project going perfectly from start to finish. This is not always easy, but when you know what mistakes to watch for the process is a lot simpler. Here are some suggestions on how to avoid some of the most common Northern Virginia kitchen and bath remodeling pitfalls.
Not Enough Preparation
The biggest mistake Northern Virginia homeowners make in their kitchen and bath remodeling project is not preparing properly for the project. Daniels Design and Remodeling will ensure that every detail is well planned out and that you have everything on paper well before the project begins. The plan will include the complete design as well as the timing of the project, what materials will be needed, what order the work will take place, cleanup plans and payment schedule. This puts you at ease because you know exactly what to expect
Low-Balling It
It is never a good idea to cut corners in your Northern Virginia kitchen and bath remodeling project. Begin with the best designers you can find and go from there. They will help you avoid layout mistakes, hire the right people for the job and make sure you are doing everything up to code.  Even though top quality materials and workmanship will cost a little more, it is less expensive than having to go back and replace or redo everything. You won't regret investing in the best.
Following A Fad
Although it might be tempting to include all the latest trends in your new kitchen and bath, it isn't a good idea. What is popular today may not be next year, and you won't get the return on your investment that you are looking for. Daniels Design and Remodeling will work with you to create a kitchen or bath that is timeless yet modern. You can have all the latest design features without being stuck on what is hot right now.
These are a few Northern Virginia kitchen and bath remodeling pitfalls to avoid. By planning ahead, sticking with high quality materials and workmanship and using classic design elements that never go out of style, your renovation will be everything you've hoped for.