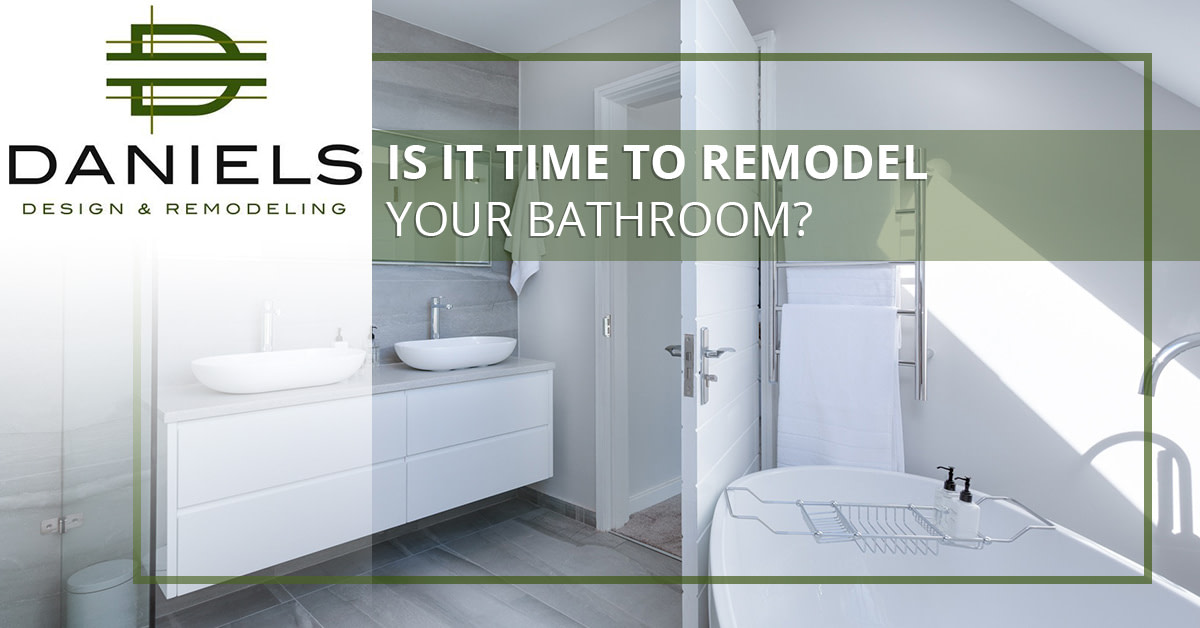 How do you know when the time comes to remodel your bathroom?
When it comes time to sell your home, having a stylish, functional and up-to-date bathroom is a must. In fact, bathrooms are some of the first things people look at when they're looking at homes, and if you're bathroom isn't up to par, now is the time to get it there. However, bathroom remodeling is so much more than just about getting your home ready to sell. Even if you plan to live in your home indefinitely, bathroom remodeling can be a great option because it will make your living situation that much more enjoyable. But, how do you know when it's time to remodel your bathroom? Here are a few tell-tale signs to watch out for:
#1. Your bathroom is ugly.
Styles come and go, and what was once popular 20 or 30 years ago, has now become outdated and unattractive. On the other hand, even if the design of your bathroom is still relevant, over time, age can take its toll, causing fading and other signs of wear and tear that can diminish the look of your bathroom. If you live in an older home, and you haven't updated the bathroom in more than a few years, there's a good chance that it could use some aesthetic upgrades.
#2. Your bathroom is damaged.
Whether there are cracked tiles in your shower, there are leaks in your faucet or your toilet is constantly broken, it's a good sign that your bathroom could use some updates. Some of these minor issues can probably just be repaired, but if repairs are big and expensive, consider replacing your old, outdated bathtub, toilet, faucets, etc. with newer, more efficient options.
#3. You've outgrown your bathroom.
Circumstances change throughout life, and while a single bathroom with just a shower and a toilet may have worked when you were on your own, it's not ideal now that you have to share it with your roommate, spouse or child. And, even if no new people are using the bathroom, life still moves on. Toddlers turn into kids who would rather take showers than baths, and you may benefit from grab bars or other modifications as you age. No matter the cause, if you've outgrown your bathroom, it's time to get it renovated.
#4. Your bathroom isn't efficient.
Technology has come a long way, and today, faucets, toilets, showers and other plumbing fixtures are now more efficient than ever before. For example, some older toilets use as much as seven gallons of water with every single flush. Today, federal plumbing standards dictate that new toilets use only 1.6 gallons of water per flush — that's over five gallons of water saved with each flush, and that can really add up.
#5. You don't like spending time in your bathroom.
The bathroom is more than just the place where you shower and use the toilet. More and more, bathrooms are becoming the hub of relaxation in your typical home. New bathrooms are designed in ways that make you want to actually spend time in them, and at Daniels Design & Remodeling, we can help you enjoy a bathroom you'll love to relax in.

Is your bathroom due for a renovation?
Whether you are interested in bathroom remodeling in Northern Virginia because you want it to look better, you've outgrown it or for any other reason, the team at Daniels Design & Remodeling has you covered. Our bathroom remodeling team has what it takes to help you create the bathroom of your dreams. Visit us online today to get started.