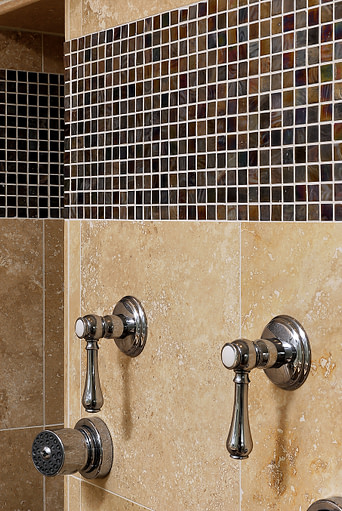 Imagine having a spa-like experience in your own home every day. Modern luxury bathroom showers make it possible, discount with an incredible amount of options that let you indulge your senses. Our designers will help you create a shower that you will never want to get out of.
Do you really need a tub?
If you have enough space in your Master Bath, it's great to have a soaking tub along with a luxury shower. When space is limited, many homeowners are choosing to ditch the tub and shower combination in favor of a large, custom designed shower area. They realize they really don't use their tub very often, and the precious bathroom space could be put to much better use.
Heavenly shower heads
Multi-function shower heads come in a huge variety of shapes and sizes to suit your needs. There are rain shower heads that can be mounted directly above you for the soothing feeling of standing in the rain. Body sprays can be mounted into the walls to add even more luxury. Shower mixer faucets and thermostatic valves always keep the water at the perfect temperature.
Express yourself
Let your imagination go and use a mix of tile and stone to get the look you want. You can add customized tile work, a skylight or a bench made of teak or stone. Frameless, glass shower doors give your bath a sense of drama and make you feel like you are in a high-end luxury spa.  Adding a steam shower into the mix can be good for your health, offering deep relaxation and remove impurities toxins.
Pump up the playlist
Wireless and water resistant sound systems let you enjoy your music on a high quality sound system right in the shower. You could even answer phone calls and stay connected while enjoying your morning routine. With waterproof speakers built flush into the walls, you can integrate your bathroom audio system with your overall design.
Adding a luxury shower makes your daily showering ritual a wonderful experience. Talk to the designers at Daniels Design and Remodeling to plan a luxury shower that suits your space and lifestyle perfectly.