Whether it is your living area, your kitchen or perhaps even your bathroom, with the right construction and design, you can ensure that you make the best use of your space. People are moving back to family style homes where the living area is not only limited to entertain the guests but is also used by the family too.  House structures have evolved with time, and today spaces are being utilized multiple purposes. Following are a number of ways you too can upgrade your house to current standards with the help of simple home remodeling projects.
Office and Guest Room
This is a smart way of making a guest bedroom without hating your guests for taking up your house space. If you have house guests often and need a dedicated space to work, then this multi-functioning room is the right solution for you.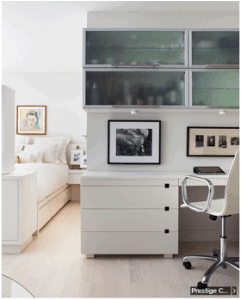 Closet Home Office
In recent times, closet home offices have become widely popular. They not only incorporate great utilization for the little space available, but you don't necessarily have to worry about keeping the space clean after you are done. Whether you install your closet home office in your living room, bedroom, laundry room or kitchen, simply close the door and you are good to go. As far as functionality goes, closet home offices are perhaps the best thing to happen since Murphy beds.
Room Dividers
If you are looking for multi functioning room options on a budget, then room dividers are a great way to separate functionalities without going through any major home remodeling. You can also use separate flooring options on either side, or different rugs and accent hues to further separate the areas visually.  Homeowner has used an old door to divide the bed from the study, giving an elongated room more width and character.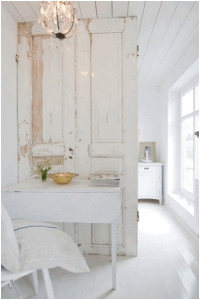 All Purpose Room
Adding a Murphy bed can open up the space for a lot of other purposes. In this case the homeowner has utilized it with study space as well as a living area. This is ideal for small families or if you wish to let out one of your guest bedrooms to generate a stable monthly income.