Ideas for Lighting up Your Bathroom
Bathroom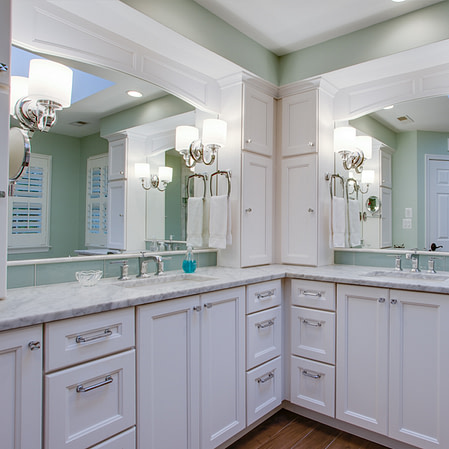 s are generally just equipped with task lights, with little to no attention given on ambient and/or accent lighting. Where task lights might fulfill the purpose of providing sufficient light, they will do almost nothing to make your visit a pleasurable and comfortable experience. Yes, the right lighting can offer comfort and relaxation.  Following are a few standard rules and tips and tricks to lighten up your bathroom:
Standard Bathroom Lighting Regulations
Natural lighting is the primary unsaid rule of bathroom lighting and ventilation. When remodeling your bathroom, make sure you install huge windows to offer natural light. Nothing can offer liberalization like natural
lighting. Recessed lighting offers great light coverage and gives a clean and unobtrusive look. You can also opt for a small chandelier or basic ceiling lighting to offer ample task lighting in the bathroom. For task lighting, experts recommend 75 to 100 watts' worth of illumination. Putting dimmers on task lighting will help you adjust the light according to your requirements at various times during the day.
Mirror Lighting
Ideally two luminaries should be mounted on each side of the mirror between 2-75 watts. One mistake many people make is to install lighting above the mirror, which causes shadows and makes daily grooming tasks difficult. Also install lighting in the shower area if you have textured or tainted glass.
Ambient Lighting
Ambient lights are also called fill lights. Ambient light is generally installed along the perimeter of the space, especially if the fixtures are hidden behind walls or there are cantilever details, pillars, etc.   Pendant fixtures with translucent shades are a great idea to offer ambient light and to decorate the walls.
Accent and Decorative Lighting
Accent and decorative lighting help add sparkle to your bathroom. When remodeling your bathroom, speak to your contractor to add extra sockets above the bathtub, shelves, windows or any other distinctive fixture or feature. Adding the right hues of accent or decorative lighting, you can add extra warmth to your bathroom. If you have no plans of remodeling your bathroom in the near future, you can place a lamp on a table away from the shower area, to keep it safe.
If you are anything like the average person, then you look forward to those stolen moments spent in the bathroom. Whether to soak yourself in the warm water during winters or to take cold showers during the warmer seasons, the right ambiance and atmosphere can help you de-stress and relax.