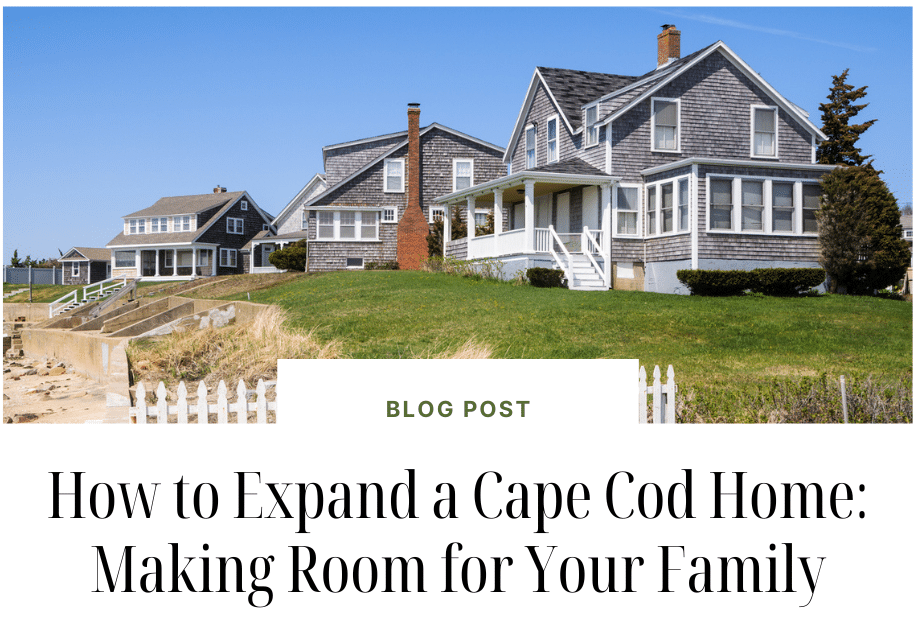 While Cape Cod-style homes may be more common in New England, we have our fair share of these classics here in Northern Virginia. But what do you do when "four walls and a peaked roof" don't quite cut it anymore?
A quick look through Cape Cod addition before-and-after pictures shows just how much you can do to personalize your home, even when starting from such a simple floorplan.
Learn how a Cape Cod house addition can make your home more comfortable and spacious and some clever ways to Daniels can help.
Planning Your Cape Cod Home Addition
Cape Cods are known for their symmetrical, almost boxy shape, usually with a central chimney that makes adding an extra story tricky. Before you get started with a Cape Cod remodel, ask yourself a few questions:
How much extra space do I need?
What's my budget?
Do I want to keep the Cape Cod aesthetic, or am I willing to branch out?
Are there any other remodeling tasks I want to do at the same time (like adding more storage or increasing insulation)?
What do I want to use my new space for?
Answering these questions will help you determine what kind of Cape Cod house remodel best fits your needs and budget.
Why Expanding a Cape Cod House May Be the Perfect Plan
If you're not quite sold on adding that extra space, here's what additions to Cape Cod-style homes can do for your living space:
Leave room for more storage (a common issue with Cap Cods)
Create a front entry space
Offer greater flexibility with your floor plan
Expand a Cape Cod home's typically small rooms
Provide room to grow your family or new space for guests
Working with an experienced home remodeling company can help you incorporate these priorities into your project to balance space optimization and a pleasing aesthetic.
Related: 4 Reasons a Home Addition Might Be Right for You
How to Expand a Cape Cod House: Choosing Your Style
When you have your budget and home goals in mind, it's time to start planning! Here are the main four options for Cape Cod additions …
1. Keep your Cape Cod home addition simple with a screened-in porch
Take advantage of mild Northern Virginia weather by enclosing your porch using screened walls. A screened-in porch adds space and value to your Cape Cod on a budget.
Screened-in porches don't have to be heated and cooled so they don't require full walls, insulation or drywall. Screening your porch is kinder to your budget than a full-room addition, allowing you to save or allocate that money for another renovation.
Screened porches provide extra living space when the weather's nice (but can't be used year-round). Looking for a more weather-proof porch renovation? Fully wall off two sides of the porch and convert the third to retractable glass walls to enjoy indoor-outdoor living.
Related: Sunroom vs. Screened-in Porch: Which Is Right for You?
2. Other ground-floor addition(s)
To create a space that's comfortable year-round, you can choose a kitchen expansion or an extra room on the ground floor. This will have a bigger impact on the symmetrical Cape Cod style unless you add equal space on the other side of the house. If you expand your kitchen on one side of the house, consider adding more space to your living room as well to match the original balanced layout of a Cape Cod.
If you're willing to unbalance the traditionally symmetrical look of a Cape Cod, we'll help you draft expansions that choose the best place to add the new room of your dreams. To stick with your home's current look, your Cape Cod home remodel will take more planning, but we can do that, too.
3. Expand upwards with a Cape Cod second-story addition
If you need the maximum amount of new space, there's one more direction to go: up! To make things more comfortable, add a roomy second story or expand your existing one upward with straight walls to change it from cramped storage to a comfortable new living space. At Daniels Design and Remodeling, we can re-create the iconic sloping roof with a third-story attic or new loft space. While this is one of the most expensive ways to remodel a Cape Cod home, a second-floor expansion will:
Increase living space without infringing on your yard
Allow you to move all sleeping quarters to one floor
Provide the option of converting the ground-floor bedroom to an office, den, or playroom
Make an existing second floor feel less cramped
4. Make the most of the space you already have
If a full addition isn't exactly what you want, there's a type of Cape Cod home renovation that can make the space you do have more workable. For example, remodeling your kitchen or bathroom may make your space feel more workable. Converting to an open floor plan can make the layout of a Cape Cod-style house flow more cleanly.
Explore Your Options for Cape Cod Additions
Whether you choose to renovate your Cape Cod home or upgrade to a full addition, Daniels Design and Remodeling is your go-to for Northern Virginia Cape Cod renovations. We can help you plan and build your addition from start to finish. Our designers and contractors can seamlessly and aesthetically incorporate your new expanded space into the existing layout of your beloved (if somewhat cramped) Cape Cod home.
Ready to get started? Schedule a conversation with us today!