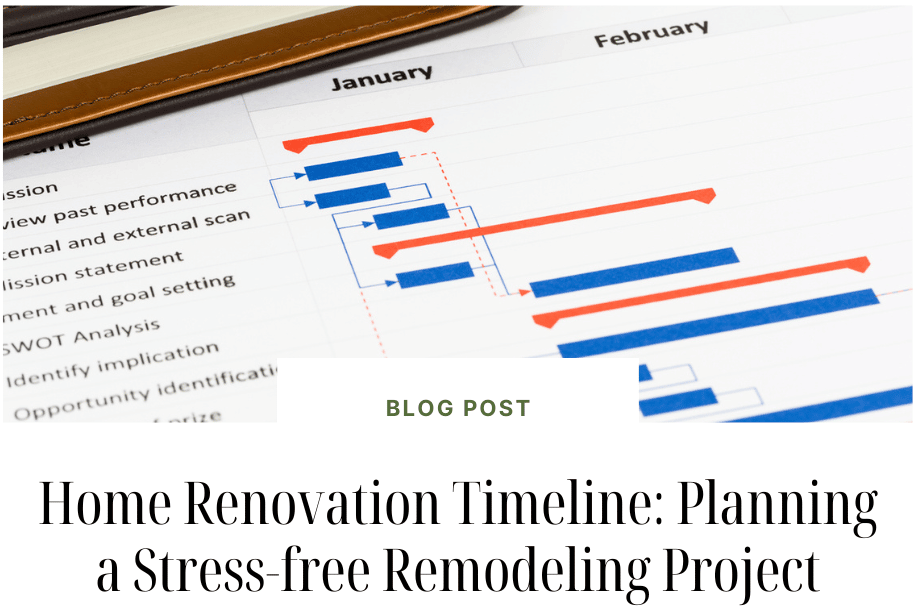 Pursuing a home remodeling project should be an exciting, creative journey. At Daniels Design & Remodeling, we take pride in helping you understand the process from start to finish.
As you begin your home remodeling journey, align expectations on completion with a home renovation timeline established by Daniel Design & Remodeling's three decades of experience. We'll help you learn how to plan a remodeling project and offer some insights into how long renovations might take.
How Often Should You Renovate Your Home?
If your home is in good condition, we recommend evaluating it for a remodel or renovation every 15-20 years.
When you do renovate, remember: Home renovation projects should be motivated by more than home design trends. Your next kitchen or bathroom renovation or home addition project should also be designed to:
increase the value of your home
improve the function of your home for your family
address possible structural issues, like completing a remodel at the same time as replacing your roof
Along with return on investment and the other items listed above, consider your future plans as you prepare to remodel.
Ask yourself:
Is my household growing or shrinking? (Are you adding to your family, or will kids be moving away?)
Could my career cause me to relocate?
How could my home needs change due to health reasons?
When Is the Best Time to Renovate Your House?
The best time to start a home renovation project depends on the season, your travel plans and contractor availability. Most contractors are busiest during the spring and summer. These seasons also happen to be convenient for homeowners, as they may spend more time outdoors or take summer trips. Planning a trip during your remodeling project can reduce the renovation's disruption in your day-to-day life. You may need to stay flexible when planning your remodel.
Fall and winter renovation projects can sometimes experience delays due to weather or increase your home heating costs due to ongoing work with exterior walls or windows. In Northern Virginia, winter weather seldom delays home remodeling projects. We'd be happy to answer any of your questions about when to remodel your home to avoid the greatest inconvenience.
Contact a Daniels Design & Remodeling project manager to learn more about contractor availability.
The Benchmark Home Renovation Timeline
Once you decide when you want to remodel your home, it's beneficial to work backward and anticipate the needs of your family for the duration of the full home remodel timeline. This includes ample time for initial research, finding a home remodeling contractor, looking at your finances and planning for the remodeling work on-site. How long do home renovations take with Daniels Design & Remodeling? Here's a general renovation timeline.
Home Remodeling Research Phase
The research phase can vary from a few weeks to several months, depending on how extensive your remodeling project might be. Exploring options for a renovated kitchen might take longer than looking at all your basement remodeling projects, for example.
Home additions usually take at least a couple of weeks to research. This will give you time to explore all your options, research trends, consider your needs and find the right contractor. Depending on the room or space you're adding, you'll need time to evaluate the materials, dimensions and financial implications of remodeling that space.
Time: Depends on the client, but often 2-3 months
Finding a Remodeling Contractor
While it can be tempting to work with the first contractor to pick up the phone, homeowners who take time to meet with prospective builders, see their work and understand their workflow will always have a better experience.
Remodeling your home is personal; the right contractor will understand how to balance your goals, your property's potential and limitations and find ways of working that meet your needs. Plan for it to take at least a few months to find the right partner and break ground on your renovation.
At Daniels Design & Remodeling, the work really starts with our feasibility study. We're typically able to meet with clients within a week of first contact and can schedule a feasibility study for the project in less than a month! Next, we'll create a set of plans, establish final costs, and present you with a contract to sign. Then, we really get to work.
Time: 6-8 weeks
How Long Do Renovations Take?
Once work is underway, things go quickly! Single-room renovations can take a few weeks to a few months based on material and appliance availability and the type of work being done. Plan on a whole-home remodel to take 3 to 6 months.
Time: Approximately 1 month per room
Tackling the Unexpected
Even with in-depth research and detail-oriented contractors, home renovations often throw some unforeseen curveballs. Throughout the project, contractors may discover structural damage to your home (like a cracked foundation) or face delays due to product availability. Working with an experienced contractor like Daniels Design & Remodeling puts your project in the hands of professionals who know how to find solutions.
Plan Your Remodel with Daniels Design & Remodeling
Whether you've put six hours or six months into planning your renovation or addition, we're here to help every step of the way. Get your project started by scheduling a conversation with us today.