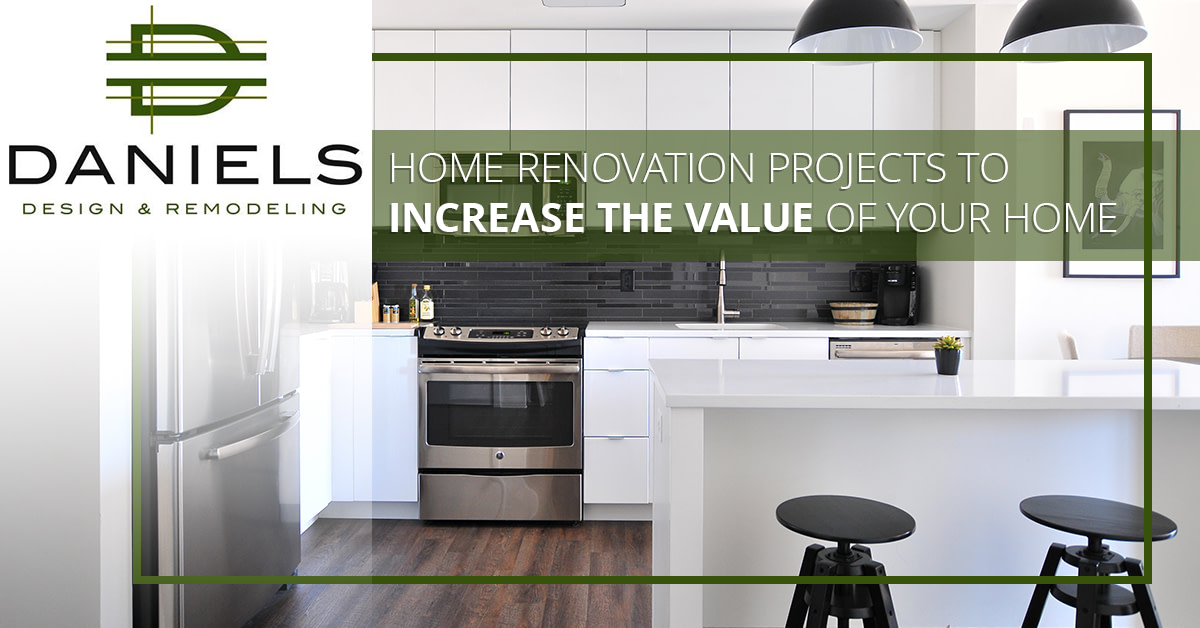 Perhaps you've found yourself daydreaming about a kitchen or bathroom renovation project for the home in which you currently reside. Sure, you'd love to make some significant changes to make the home more aesthetically pleasing and liveable in general. But there is another side of that coin; will the renovation increase your home's value?
You might be inclined to think this way because you are like many other homeowners in the sense that you want to keep your options open — you aren't sure how long you will be abiding in your current abode. In this way, you and your family might have a few different remodeling ideas in mind. One might want to prioritize a kitchen remodel while other decision makers would love a new master bathroom. If you don't necessarily see yourself living in that home for the long-term, a tie-breaking factor could plausibly be to choose the project that will add the maximum value to your home. Then again, it might be the very first factor you consider when making your home remodeling decision.
Either way, today's post concerns breaking this topic down so that you understand which remodeling ideas and projects will increase your home's value and why. But before we dive straight in, allow us a brief word about who we are at Daniels Design & Remodeling!
Your Northern Virginia Remodeling Contractor Of Choice
We are Northern Virginia's premier boutique home remodeling contractor here at Daniels Design & Remodeling. Homeowners choose us because there simply is no other company that will dedicate themselves to the project and your ultimate satisfaction the way we do. No matter the size of your remodeling project, we have the skilled specialists in place to ensure your experience surpasses your expectations in every way.
We do this by following our 3-Step Process with every renovation project we complete, which makes sure that we earn your complete satisfaction during each stage. You can find out more about said 3-Step Process at your convenience, but in sum it involves a feasibility study, choosing your design from up to three concepts, and then we build your project! Every step of the way, you will be well informed regarding details, timeline, and the end result of the project.
Now that you have a working understanding as to who we are at Daniels Design & Remodeling (DDR), we have a promised blog topic to get to! Keep reading if you are interested in learning more about which home renovation projects are best for increasing the value of your Northern Virginia home in 2018.
Industry Context
A 2018 survey regarding Homeowner Protection performed by Chubb asked well over 1,000 homeowners across the nation about their plans to undertake a home renovation or improvement plan within the next year. The data showed that over 58 percent either "probably" or "definitely" would do so, with 65 percent of folks planning to spend a minimum of $10,000 and 20 percent budgeting in the region between $10,000 and $40,000.
With such information illuminating the trend of homeowners being so willing to renovate, it's clear to see why it's so important to learn which kind of projects will increase the value of your home.
Prioritize Your Kitchen And Bathroom
If you are looking for the best return on investment for a home remodeling project, we recommend prioritizing your kitchen and bathrooms. For one reason, they are high-traffic settings that go a long way toward defining the quality of your home's interior. According to a Forbes article on the matter, Indiana mortgage banker Corey Vandenberg deems that appraisers will usually look for updates in these areas before others due to the fact that such renovations naturally appeal to potential buyers.
For their part, kitchens often deliver the most ROI when compared with all other options. Ensuring that all your appliances match by replacing older models with new, uniform appliances is a good start, as is refinishing or full-on replacing your cabinetry. For our part at DDR, we typically get involved when the kitchen remodeling projects are more robust, but the point is that you don't have to break the piggy bank in order to move the dial in your home's overall worth.
That being said, you can never go wrong with true quality. We use the top materials, designers, architects, and carpenters here at DDR, which should mean a good deal to you if you are interested in dramatically changing the value of your home while getting an aesthetic appeal that makes you thrilled to live in your home!
Schedule Your Conversation
Daniels Design & Remodeling is your source for kitchen remodeling and other kinds of home renovations in Northern Virginia. If you are ready to learn more about what we can do for you in terms of bringing your dream home to life while increasing its value at the same time, don't hesitate to reach out to us to schedule your conversation. We'd love to hear from you!