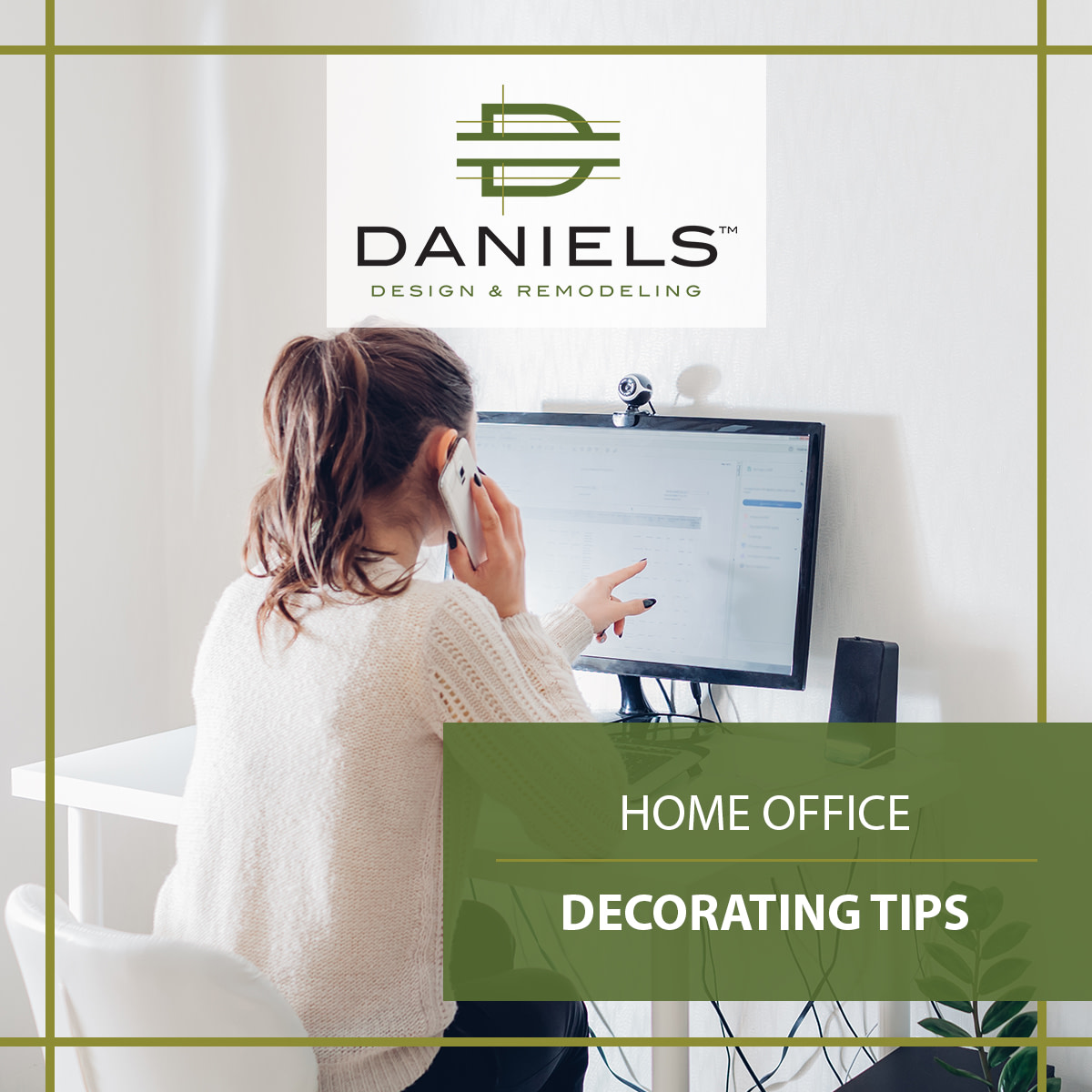 We've been talking a lot about home office remodeling here on our blog at Daniels Design & Remodeling. We've offered up reasons for remodeling your living space into a home office, as well as some of our best remodeling tips for your home office. With so many people having been forced to work from home and are now choosing to work from home, having a functional, yet calming and productive space to work has become a top priority with our Northern Virginia customers.
Daniels Design & Remodeling offers the best kitchen, bathroom, and living space remodeling services, including home office remodels. Our team offers the highest-quality work with unparalleled customer service and attention to detail. We've been going strong in Northern Virginia since 1997, and we love seeing our clients' spaces made new. Below, we'll offer up some great home office decorating tips you can incorporate to make your home office setup perfect for you. Schedule a conversation with our team today!
HOME OFFICE DECORATING TIPS
Invest in Storage
It's super easy to have a home office that doubles as a place to dump stuff, from junk mail to your car keys, the last drink you were holding, wallet, calculator, kleenex, candles, snacks, and more. Before you know it, your desk is filled with stuff to the point you can't find anything. Subconsciously, your mind is freaking out because of all the clutter. By investing in storage for your home office setup, you'll be able to maintain focus and thereby productivity, as well as have a relaxing place to work in. Some ideas include using vertical storage as well as horizontal, installing floating shelves, and investing in baskets designated for your paperwork.

Choose Vibrancy
Your work from home office does not have to be a dull and drab place full of stacks of file folders and blank walls. Instead, hang up items that remind you why you work so hard in the first place to both inspire you and motivate you to keep on keeping on. Some ideas include pendants, garlands, vibrant party strings, colorful trays, beautiful photographs, and patterned curtains. Add in a bright throw pillow for your office chair, and you've added spice to your work life. Call Daniels Design & Remodeling in Fairfax for more home office remodeling ideas today! 
Combine Office and Playroom
Many parents are now working from home thanks to COVID-19, and many are staying home and loving it! That being said, there are now babies and tots to contend with while you're on a conference call, trying to type an important email, or working on a presentation. One great way to contain your children and keep an eye on them while you get work done is to add a playroom to your home office setup. Whether this simply means adding a toy box in the corner, hauling in a train table, or having a comfy place and books around for your kids to read, having your small children nearby offers peace of mind and allows you to get your work done in a timely fashion.
Lose the Cords
Cord clutter is just that — clutter. Studies have shown that clutter inhibits our work and adds stress to our day because of the items lingering around us. Plus, cords everywhere just look downright ugly. You can do a little finagling that will go a long way in creating a beautiful office space minus cord clutter. You can cut a hole in the back of a box to string cords through. You can mount your power strip in an out-of-the-way location. Or, try just tying your cords together with a zip tie or pretty string. You'll be surprised how this simple move creates simplicity in your home office setup. Our Northern Virginia remodeling company has many ways to remodel your home office space and make it beautiful. Schedule your conversation today.
Make it Cozy
Admittedly, it can be hard to get out of the bed in the morning, especially if you know that you have a long day of work ahead. However, by making your home office setup cozy, it will be a lot easier to get your day started with a bang. Perhaps you add in a coffee bar, complete with coffee maker, condiments, and a mini-fridge to hold your cream. You can place a throw rug underneath your seating area to keep the floors warm during the cold winter months. Or, perhaps you have a comfortable chair in the corner with your favorite blanket and a book waiting for your breaks. Decide what comfort items you need and love, and add them to your home office setup.
Make it You
Ultimately, you want your office space to speak to you. You want to be able to walk in when you're ready to work and have your office space invite you in with open arms, and then embrace you throughout your day. Work can be stressful enough, but with the right home office setup and decor, you can minimize stress and make your work days pass by like a light summer breeze that blows through your hair. Whether you love plant life and want a shelf full of house plants, or you have an entire wall of your kids' artwork or photos of your fur babies, make your work from home office remodel all about you. Let Daniels Design & Remodeling help you with a home office remodel in Northern Virginia. Schedule the conversation today!
CHOOSE DANIELS DESIGN & REMODELING IN NORTHERN VIRGINIA TODAY
Daniels Design & Remodeling in Northern Virginia has been helping homeowners for over two decades make their living spaces exactly how they want them, adding in functionality, beauty, and poise every step of the way. To have a work from home setup, you don't need a whole lot of living space. You can carve a space out of your bedroom, living room, kitchen, or convert a spare bedroom. By utilizing some of our home office decorating tips, you'll have a comfortable space you'll love.
Our remodeling company can help. We offer home office remodels, along with kitchen, bathroom, living spaces, and exterior remodeling services, such as porch additions, to make your home suit your needs. We spend the vast majority of our time in our homes, and having the space complement our needs and offer the function we need makes life more enjoyable.
Our remodeling process follows three easy steps to make the transition smooth for you. We start with our feasibility study, which gives us a sense of your space and allows for ample time to understand your needs and vision. We draw up three design ideas to choose from, so you can have the best one that meets your needs. Your input is encouraged until you are satisfied with the final result. Then, we get to work creating your perfect space. We'll schedule all of the work, handle the permitting, and keep you up to speed on the progress of your home remodel. This is where the magic happens, and it is very exciting to see your space take shape.
Once your home remodel has been completed, we'll perform a final walk through with you, so you can ensure every detail is perfect. We warranty our work for two years, allowing you plenty of time to ensure nothing was missed.
If you are interested in partnering with our home remodeling company in Northern Virginia, schedule a conversation today!