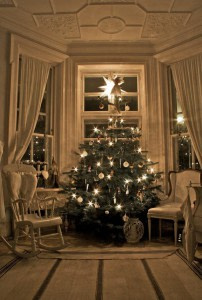 This holiday season, a wonderful idea for your home is to build the bay window you've always dreamed about. Bay windows add architectural detail that reflect the style of the home, and bring new light and dimension into your interiors. They are also the perfect spot to display your Christmas tree, Menorah or holiday decorations. Northern Virginia remodeling jobs don't have to be huge to make a big impact. Here are some of the benefits of installing a bay window to replace your flat paned window.
Increase The View
A bay window will dramatically open up your room and give you a wonderful view out into the world. A bay window consists of 3 separate windows, one central window and two side windows that can be set at a 30,60 or 90 degree angle. Because of this, the window dramatically captures views and light from all three angles.
Add Value
The appealing aesthetic of a bay window in your living room, dining room, kitchen or master bedroom increases the resale value of your home. Adding a bay window to your Northern Virginia remodeling project also gives you more square footage. Bay windows also increase the energy efficiency of your home, which always ups your resale value.
Ventilation
In Northern Virginia, adding a bay window with two operating windows gives you the option to open your home up to the Southern breezes. Around the holidays when your home is full of guests, this is sure to be appreciated.
Extra Storage
Bay windows often feature extra storage options for your home. Talk to our design team about a bench seat with storage underneath, built in shelving or one wide shelf to display plants or other treasured items. During the holiday season, a bay window gives you many more options than a regular flat paned window.
Installing a bay window brings light into your room, adds architectural detail and increases your view and sense of space. Best of all, it's the perfect spot to reflect your holiday spirit out into the world. We at Daniels Design and Remodeling wish you and yours the most happy and healthy holiday season.