Maybe you've been asking yourself if it's time to remodel your Northern Virginia home. Perhaps you woke up one day and realized that the shag carpet and faux wooden panels are about 40 years out of style. Maybe you realized that your kitchen is essentially the polar opposite of "feng shui" and that it is a problem in need of being rectified. Or perhaps you want a functional porch to enjoy your yard while maintaining a level of comfort.
The point is, there are plenty of reasons to renovate your home — and just about all of them are legitimate as far as we are concerned! Daniels Design & Remodeling is a boutique home renovation company with a staff that is passionate about what we do. And the great thing is, there are so many different reasons to remodel your home! We addressed a few hypothetical, ultra-specific reasons above, but a few of the more common reasons include the following:
Significantly increasing the resale value of your home
Utilizing modern technological advances to have a "green remodel," which focuses on energy efficiency by installing new windows, insulation, doors, and climate control centers
Upgrading counters, appliances, flooring, and fixtures in terms of function and style
Making a custom floor plan that is tailored to your lifestyle — whether it's a walk-in closet, luxurious, spa-like master bath, or a robust exterior remodel to give your home the aesthetic facelift it needs
Simply adding more space!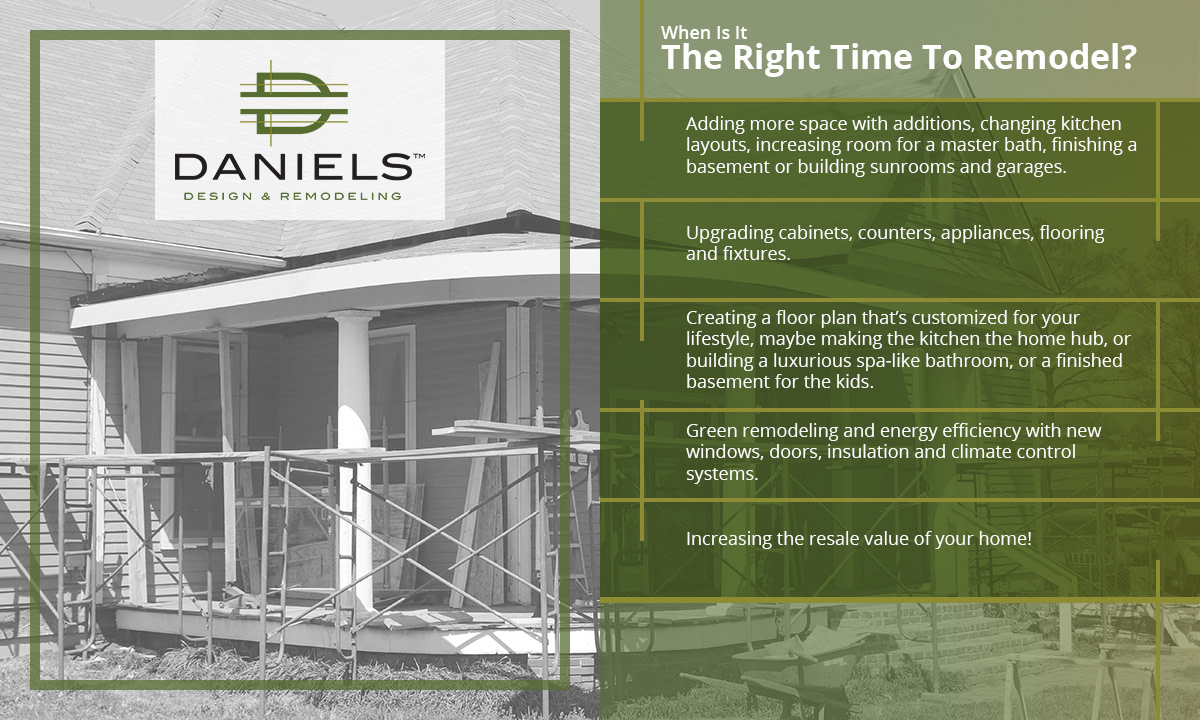 Home Renovation Specialties
Now that we've gotten the proverbial gears turning a bit, we'd like to dedicate the rest of today's blog to highlighting our home remodeling specialties, as the title no doubt already gave away! We offer kitchen remodeling, bathroom remodeling, porch and patio design, living space renovation, and other home additions! So without further ado, let's dive in so you can get a feel for what we offer as one of Northern Virginia's top home remodeling contractors!
Your kitchen is the hub of all activity in your home. If you don't have a hearth, it might double as your family gathering place in addition to being where you cook, eat, and pass the time. As such, the layout, lighting, and aesthetic feel of the kitchen has to make you feel good. If you don't have appliances, countertops, cabinetry, and a flow that matches your lifestyle, it's well worth considering if it's time to get started on a luxurious kitchen renovation project. Add value and beauty to your home while increasing the value of your home at the same time! Daniel's Design & Remodeling will take your dream and turn it into a reality!
Speaking of improving your home's valuation, you might be interested to learn that the National Kitchen and Bath Association reports that renovating your bathroom is one of the best ways to add value to your home due to improved return-on-investment when (or if) your house is sold.
Of course, this is nothing to say about the kind of difference a bathroom remodel can have on your quality of life. We go well beyond having a walk-in shower and spa-like tub here at Daniels Design & Remodeling; we work closely with you to make sure we capture your vision as we take your bathroom(s) to the next level!
While many home renovation companies might have a heavy focus on the aforementioned two indoor categories, we at DD&R have a unique passion for making the outside of our clients' homes as beautiful as the inside with our porch and patio design in Northern Virginia.
Whether you are looking to increase your home's curb appeal, add value to your property, find more personal enjoyment while being in the outdoors, or you'd like a more appropriate setting to entertain, we are more than able to enhance your home with a new patio or porch. Learn more about our universal design approach if you'd like to know more about how we go about our business!
When it comes to enhancing your living space, the possibilities are virtually limitless. At the risk of sounding 100 percent cheesy, if you can dream it, you can do it! We are dedicated to discovering what you are looking for in terms of matching your living environment with your ideal lifestyle.
If you want a man cave with all the bells and whistles — check. If you want the ultimate gym tailored to your fitness regime — double check! If you want class, charm, and function — (you guessed it) triple check!
As families grow in number (not to mention height), your family's needs will change with them. If you are feeling cramped with your home's current setup, there are solutions outside of moving away in search of more square footage. We can add a room, expand one that already exists, or rearrange the floorplan of a room to help it flow according to your unique needs.

Whatever you need, we've got you covered at Daniels Design & Remodeling! We hope that you've enjoyed this brief look at our home redesign specialties. If you have any lingering questions or you would like more information about a particular specialty, we would be happy to speak with you! We have years of experience, cost-effective remodeling solutions, and we go the extra mile for our customers. That's what helps set Daniels Design & Remodeling apart from all other home renovators in Northern Virginia!
Schedule a conversation with us at your convenience — we'd love to hear from you.