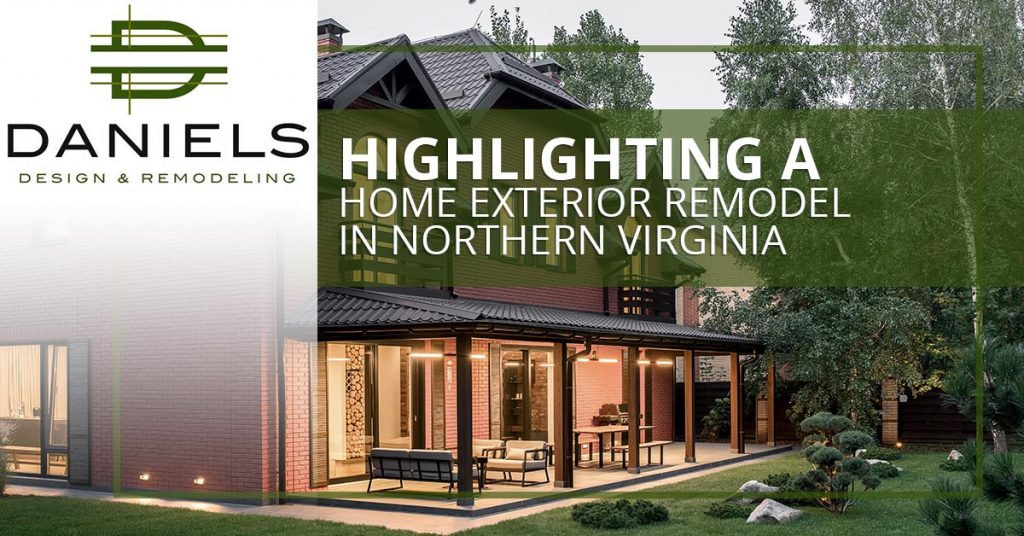 Welcome back to the Daniels Design & Remodeling blog! In our most recent post, we took the opportunity to provide our readers with a case study of a recent kitchen remodeling project we completed in Clifton, VA. For before-and-after images, a bit of background, and an explanation of the concepts we put into place for this lovely family, be sure to check out our resource at your convenience!
Today's blog will continue with the same theme as the one mentioned above; this time, however, we'll be discussing the intricacies of a home exterior renovation we were contracted to complete in Northern Virginia.
We'll provide some background information about what the family was looking to accomplish through their exterior remodel before we discuss the concept, strategy, and execution our team at Daniels Design & Remodeling performed. Then we'll wrap up the post with the highlighting of a few of our favorite features this particular renovation is able to boast.
That said, let's dive in!
Background
Location – McLean, VA
Project Duration – 6 Months
Price – $300,000 – $600,000
We were contacted by a wonderful McLean family that wanted to improve the curb appeal of their home in two ways. The first was to enhance the space of their breakfast room area, and the second was enlarging their kitchen. The latter of the two required our renovation of the home's exterior, which included an exterior addition. Their priorities were focused on blending together a maximum of sustainability and a minimum of maintenance. While accomplishing the goal of blending beauty with minimal maintenance proved to be challenging in some regards, we were thrilled to be able to put our experience to good work in this project!
Our Exterior Remodel Concept
When putting together an action plan, we found the home's rear exterior both distressed and predominantly unattractive — at least in reference to the rest of the beautiful home!
Roofing
We wanted to enhance every roofline on the rear exterior in an additive manner, while at the same time utilizing the existing structure without removing the roof altogether. This meant changing low-sloped roof lines to steep-sloped gable roofing in order to align with the massing of the house, bringing about a natural, balanced look. We must say, we are quite pleased with our creative solution: by creating a two-story structure with a relatively shallow roof pitch, it looked more like a single-story roof because of the steeper roofline that was added to the exterior face of the structure already in place.
At the risk of being too detailed, we'd be remiss if we failed to point out that all the roofline work performed was overbuild style for the purposes of reducing costs in an innovative way.
In reference to upkeep, the family faced water drainage issues which we were able to solve via adding square footage to the home's rear exterior. For safety purposes, we installed rooftop snow guards alongside integrated copper gutters and downspouts to reduce maintenance duties while solving a possible safety hazard simultaneously.
Siding & Rear Terrace
The existing siding was rotten and, hence, unattractive. In fact, the rotted wood contributed to structural problems near the kitchen and breakfast area — most of which stemmed from the aforementioned water drainage issues.
To solve this problem, we redesigned the rear terrace to resolve drainage and rotting issues. To improve the aesthetic appeal of the exterior, we used shingle siding — a choice that complemented the home's front exterior design. All materials used were intentionally chosen to be durable, long-lasting, and high-end.
We were so proud to be able to resolve the water drainage issues, rotten wood, termite damage, and the aesthetic shortcomings this project presented. Though myriad obstacles led to some innovative solutions, the outcome was something both we and the homeowners were thrilled with.
Highlights
We can imagine that, at this point, you probably have the desire to see what we've been discussing in such detail. Fret not! You can view our case study of this project at your convenience — complete with before-and-after images, blueprints, and additional details.
For the remainder of today's post, we'd like to highlight unique aspects of this exterior remodel, some of which really set this home apart from others in its class.
Enhanced Curb Appeal!
We were able to dramatically enhance the curb appeal of this McLean home, while retaining almost all of the existing structure! This was done by eliminating the cedar wood siding and achieving a similar look by utilizing a more durable James Hardie cement siding. The home maintains a classic and original look, with dramatically reduced upkeep. Note that we retained and refinished original wood shutters and added new genuine copper gutters — while all other exterior surfaces were replaced.
Equally Ideal For Entertaining Or A Private "Staycation"
Perhaps the most eye-catching aspect of this project was that we were able to create an amazing oasis: brick patio surface with good flow between 2 patio seating areas. Perfectly complements grade of the land and nicely accents the interior of the home while effectively controlling the groundwater. We changed low-sloped roof lines to steep-sloped gable roofs that aligned w/the massing of the existing home to provide a more balanced look.
Attention To Details – An Innovative Combination of Materials Integrated
Elegant enhancements offer additional entertainment space and entice guests to enjoy the outdoors. This experience is supplemented via exterior lights that were replaced with copper fixtures to blend with the copper gutters. Metal roofing was incorporated to highlight bay window and sloped areas, to improve the overarching aesthetic.
A Comfortable Gathering Space With Easy Access
Our exterior home redesign afforded ample size for entertaining and enjoying meals, or simply relaxing. The new design offers plenty of room for lawn furniture and grilling space — surrounded by the sounds of nature for entertaining friends and family.
More Room For Relaxing In Nature
It's the small touches that provide a warm design. We redesigned the roofline to balance the new master bedroom roofline and used synthetic faux slate roof shingles to replace the existing shingles and incorporated standing-seam black metal. All in all, the homeowners now have a picturesque setting in which they can sit back, relax, and enjoy themselves!
Three Simple Steps
Now that we've successfully dissected each and every aspect of our Northern Virginia exterior remodel, it's time to think about your next project! Whether you are looking for a home remodeling contractor for your home's exterior, kitchen, bathroom, or another setting, we are equipped to bring your unique vision to life. And if you need a little help concocting such a vision, keep in mind we provide up to three distinct concepts for you to choose from! Learn more about our
three easy steps
right here. In the meantime, we'd love to speak with you if you are ready to hear how we can help. Remember that no matter how big or small your project is, there isn't a better team to choose from in Northern Virginia! We are the premier boutique architectural home remodeling firm for good reason — we put our customers first! Reach out to us if you are interested in a home design contractor that goes beyond simple satisfaction to ensure your project perfectly fits your vision!
Schedule your conversation
today.