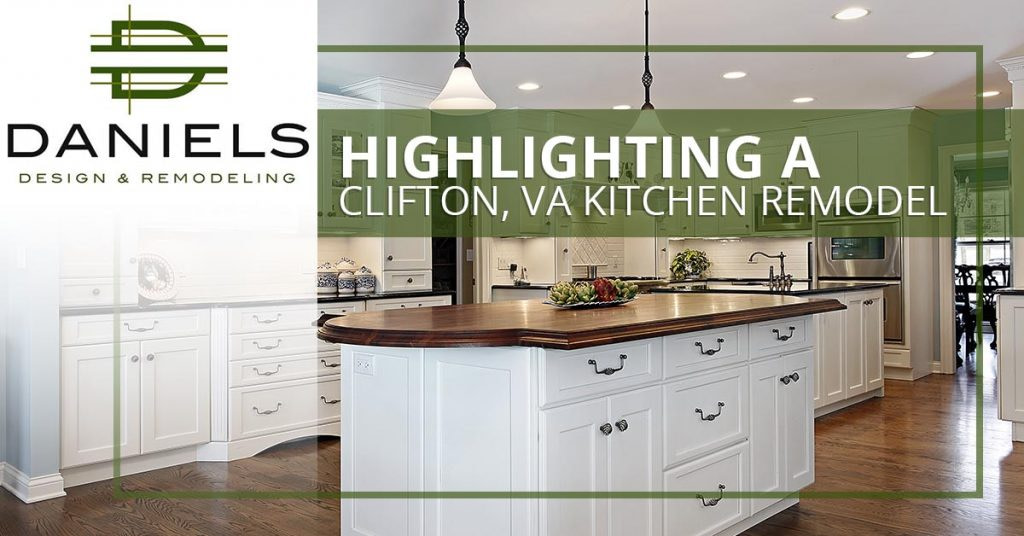 We are Daniels Design & Remodeling, as you probably already know — but what you may not know is how much thought and effort go into each and every remodeling project we plan and complete. Today's post intends to highlight how thorough our strategizing and execution is, by way of shining light on a recent Clifton kitchen remodel we were contracted to complete.

We do our best to provide a wide variety of helpful information when it comes to home remodeling in Northern Virginia. Our most recent posts have seen us highlight a few of the most common reasons homeowners decide to renovate their home. If you've been dissonantly "kicking the tires" over remodeling your bathroom or kitchen of late, we'd encourage you to read through a few of our recent blog posts for a bit of supplemental motivation! Whether you are looking to increase the resale value of your home, improve its functionality and flow, or simply class the place up a bit, we are confident you'll find the requisite inspiration to turn the house in which you reside into your dream home!

If you are interested in getting a behind-the-scenes look at what our process looks like at Daniels Design & Remodeling, by all means read on!

Background

Location: Clifton, VA
Project Cost: $100,000 – $150,000
Duration: 5 Months
We were contacted by a lovely couple. These Clifton homeowners wanted to renovate their kitchen in order to achieve a more functional and modern flow. At the time, their existing kitchen offered little in terms of natural pathways. The partial wing and small island compartmentalized the room, making the setting feel smaller than the square footage would recommend. Additionally, foot traffic was naturally directed toward the kitchen's work area. Obviously, when the preferred main entry is cramped and disruptive, it led to frustration over time. Finally, there was a lack of natural lighting in the kitchen, and this too was something the family wished to remedy.

Our Kitchen Remodel Concept
The Clifton homeowners were looking for a blend of function and style that would make them proud to entertain friends and family. To achieve this, a more open floor plan would be necessary before anything else could be accomplished. This meant we would need to widen the laundry room, whereby we slightly reduced the kitchen's overall square footage for the purposes of funneling foot traffic away from the main workspace. Instead, people would be directed to the social side of the new kitchen's focal point — a gracious and centrally located island.

To ensure that the new island wouldn't be domineering, we removed the wing wall to provide sufficient breathing room. A new resized beam was installed to supplement communication within the new space. But because there was a newly installed master bath directly above this area, we faced the challenge of replacing the previous, undersized beam without harming new tile work. Luckily, we were up to the task!

Highlights
At this point, we can imagine you'd like to see the remodeled kitchen for yourself. As you can tell from the before & after photos, there was plenty of detail that we've left off for the purposes of today's blog.

That being said, we'd like to point out a few of our favorite features this remodel brought to the table before we wrap things up.

A Place To Entertain
The large center island now provides plenty of room for the chef along with friends and family to gather during the cooking and eating time. All while offering attractive cabinetry detail, we admire the end-result's blend of function and style. We are pleased with how warm and inviting the kitchen has become with the removal of the wing wall and the addition of the island.

Dramatically Updated
The key to creating a new atmosphere is how the lighting enhances ambiance: Dimmable recessed lighting throughout the space provides mood control options; LED under-cabinet lighting for countertop task lighting; and, decorative pendant lights for direct lighting above the sink. The homeowners couldn't be anything but pleased when taking in the subtle charm of the kitchen.

A Centrally Located Quartz Island
The island cabinets are medium gray with green undertones, providing contrast and grounding at the focal point. Additionally, the quartz countertop provides double duty: functional work space and seating area for entertaining.

Sustainable & High-Quality Products
Daniels Design & Remodeling is a home renovation company which does our due diligence regarding materials used. Examples of which are: Wolf range, Kohler faucet and cast iron sink, wine fridge, TopKnob hardware & high-quality, semi-custom cabinetry with unique storage features.

A Creative Aesthetic Solution
Removing the load bearing wall, which was replaced with the hidden superior support beam, allowed for new cabinetry plan with increased storage capacity and ideal kitchen work triangle function.

A Brighter & More Attractive View – The Importance Of Natural Light
We were thrilled with the brightness the outcome afforded. The kitchen flows seamlessly into the dining area, offering inviting opportunities for the family to spend extra time there cooking, eating, playing games, and now the kids even enjoy doing their homework, if you can imagine that!


Now It's Your Turn
Are you prepared for your next remodel? Perhaps you are still in the dreaming stage rather than the planning one. Whenever you are ready, however, we at Daniels Design & Remodeling offer you a team to help guide you through the remodeling process. You can download your toolkit at your convenience, and if you'd like to schedule a conversation with us, all the better!

Thanks for reading, and be sure to keep an eye out for our next post, in which we'll highlight an exterior remodel we've recently completed!