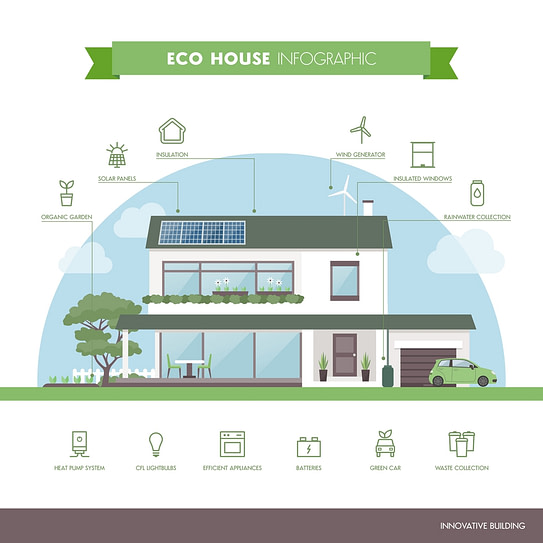 Remodeling any area of your home comes with unique challenges and opportunities. The initial impulse to remodel may stem from the desire for a more beautiful space or an improved interior design that works better for your family and the flow of your home. However, the process of remodeling also presents some valuable opportunities, such as improving your home's efficiency.  Through the process of green remodeling, steps can be taken to improve your home's efficiency in areas such as energy efficiency, water consumption, and indoor air quality. Improving the efficiency of your home can lower both your utility bills and your impact on the environment. At Daniels Design & Remodelling, our commitment to green remodeling results in this ideal combination of beauty and function.
Energy Efficiency
Focusing on energy efficiency is one of the most important components of a green remodeling project. Not only is improved energy efficiency good for the planet, it is also good for your wallet. Taking steps to increase your energy efficiency will naturally reduce your energy costs. There are several major ways that your home's energy efficiency can be improved by the remodeling process:
New Insulation

– There are new insulation technologies available that can more effectively protect homes from heating and cooling losses. The materials used in these modern insulation technologies, such as cellulose insulation, are also green in that they are made from 80% recycled newspaper. 

New HVAC System

– While renovating your home, it is important to consider the value of a more energy-saving HVAC system. At Daniels Design & Remodeling, we can help you choose the best system for your home and your budget. You can then enjoy the reduction in your energy bills for years to come. 

New Appliances

– Often, new appliances are considered an important element of a remodel because they can completely change the aesthetics of a room, especially in a kitchen remodel. However, there are also environmental and cost benefits to updating your appliances. Outfitting your home with new, more efficient appliances will help you save more on your energy costs.
While discussing your remodeling project with Daniels Design & Remodeling, we are happy to help guide you toward the best ways to improve your home's energy efficiency, whether you are planning a light remodel or a more intensive project.
Water Consumption
Your home's water consumption can often be overlooked when considering home efficiency. However, making certain changes in your home can drastically decrease your water consumption, which will help to conserve water and reduce your water bill. Our experts at Daniels Design & Remodeling can discuss these potential changes with you, including:
New fixtures and appliances

– A bathroom remodel is a great opportunity to improve your water consumption and efficiency. Our design team can help you choose the right fixture updates for your remodel. These can include low-flushing toilets and a low flow showerhead. In other areas of the home, updated appliances can also improve your water consumption. New washers, dryers, and dishwashers are typically designed to lower your water consumption. 

Positioning your water heater correctly

– In a more intensive home remodel, you may also consider updating or repositioning your water heater. Your water consumption is greatly reduced when the water heater is positioned close to the main points of use, such as the bathroom. 
The team at Daniels Design & Remodeling are experienced in the best ways to improve your water consumption during the remodeling process and can discuss the best way to incorporate this into your plans for a redesign. 
Indoor Air Quality
Ensuring that your indoor air quality is good is important both for the health of your family as well as the efficiency of your home. At Daniels Design & Remodeling we carefully consider the building materials that we use, to improve the health of your family and home. Some elements of home remodeling that we account for when trying to improve your indoor air quality include: 
Air filtering systems

– While planning a remodel, our team can recommend the best type of air filtering system for your home. A good air filtering system will circulate stale indoor air and draw in fresh air, which is an important component to conserving energy in the home.

Building materials

– We can design your remodeling project to include non-toxic materials that will be best for the health of your home. Many building materials such as paints, adhesives, and treated woods include toxic VOCs (Volatile Organic Compounds), but we choose to use non-toxic building materials that will not adversely affect your indoor air quality or health.
When working on your interior design and remodeling project, our remodeling company will incorporate these important factors for improving your indoor air quality and energy efficiency.
Contact Daniels Design & Remodeling in Northern Virginia
Daniels Design & Remodeling is Northern Virginia's premier boutique remodeling contractor. We are committed to making your home beautiful, healthy, and efficient for your family. There are many factors to consider when trying to improve your home's efficiency and juggling all of these components can be daunting. Our team is educated and experienced in green remodeling and will provide expert guidance throughout the entire remodeling process.  Don't hesitate to give us a call with any questions you may have about our green remodeling process. We are happy to answer those questions and give you some insight into what a remodeling project for your home might look like. We look forward to hearing from you and learning more about your home, family, and upcoming projects!