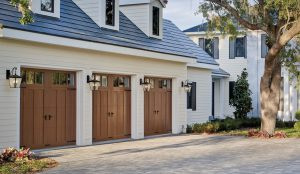 In addition to being an incredibly practical addition to your home, garages are a great place to showcase your personal style. With the huge variety of materials and styles available, there's no reason why your garage door shouldn't be a featured component of your home's exterior renovation. Whether your home is a traditional, colonial, contemporary or ranch, your garage door can go well beyond the ordinary.
When you are renovating a home with an existing garage, take the opportunity to browse the many different styles of garage doors available. The same is true for a garage addition. The designers at Daniels Design and Remodeling will include this step in the planning phase of your project. Options include traditional vertically opening doors, swing doors, sliding doors, or you could even go for bi-fold garage doors. When it comes to style, the choices are all yours. For example, if you are looking for a country feel to your home, select sliding garage doors that are reminiscent of big barn doors.
Once you've selected a style, there are also several different materials available for garage doors, at different levels of quality. For durability and low maintenance, steel and aluminum are both good choices and are still the most popular garage door materials. Wood composite doors offer the strength of steel with the look of wood, and they can be painted or stained to match the exterior of your home. Solid wood garage doors are a traditional choice that brings an unmistakable sense of warmth and luxury. Coastal locations can opt for fiberglass garage doors that are resistant to salt-water corrosion.
Adding coordinating lighting and hardware are the final touches to your garage project. The results will wow your neighbors, add a tremendous amount of curb appeal and make it a joy to pull in your driveway. Our experienced designers at Daniels Design and Remodeling are standing by to assist you in choosing a fantastic garage door to go along with your exterior renovation project!