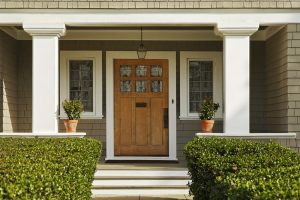 They say you never get a second chance to make a first impression, and your front entry door is the first impression everyone gets of your home. Make sure that replacing your front door is part of your next Northern Virginia Remodeling project to increase the curb appeal, resale value, and energy efficiency of your home. Here are a few of the front door materials and options you can choose from.
Wood
A wooden front entry door is the best choice for a high end home. There is nothing like classic wood that says quality, and it can never be perfectly duplicated. A wooden front door requires the most upkeep, but it is also easiest to repair small dings and dents.
Fiberglass
Fiberglass lets you be creative because it can be made to look like any material, and not surprisingly the most popular choice is a wood look. Fiberglass has a foam interior that adds insulation and energy efficiency to your home, and it offers strength against intruders. A fiberglass front entry door is also your most durable choice, with very little maintenance required.
Steel
A steel door is strong, and it is the most affordable option. Steel doors can be painted the color of your choice with a smooth finish and do require upkeep. One drawback to a steel door is that they can be dented and then are difficult to repair.
Decorative Glass
Adding decorative glass to your front door adds plenty of style while maintaining privacy. Sidelights and transoms add light to your interior and make a big architectural impact on your exterior.  Decorative glass can include details like beveled panels and stained glass to allow you to make your own personal statement in your entryway.
A big part of your exterior Northern Virginia remodeling project is choosing the right exterior entry door. This will be the first impression everyone gets of your home, so make sure it's the right one. Talk to the professionals at Daniels Design and Remodeling and they will help you find the perfect entry door for  your style and budget.