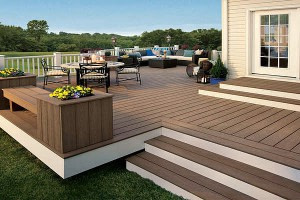 When planning your dream outdoor space, let your imagination run wild when choosing  your flooring. With all the materials available today, our designers can help you can make your outdoor spaces as beautiful and inviting as your indoor spaces.
Decking
Decking can be made of wood plastic or a composite. Wood is strong and easy to install, and most wooden decking is made from pressure treated Southern Yellow Pine that lasts about 15 years. Decks made of Redwood and Cedar last about 20 years, and tropical hardwoods will last upwards of 25 years. Composites are made up of plastics and wood waste fibers, and don't need to be stained or painted.
Concrete and Stamped Concrete
The concrete patio is a staple in backyards, and now stamped concrete can give your patio the look of much more expensive stone. Stamped concrete is perfect for patios, driveways, pool aprons and decks, walkways and stairs.  Another option is beautiful textured wooden tiles that can be laid directly over concrete to add interest to your outdoor space.
Stone
Whether you choose travertine, slate, or flagstone, natural stone is a classic choice for your outdoor areas. Travertine is a natural limestone with a rustic look that will last for generations. Slate is strong and comes in a beautiful range of earth tone colors. Flagstone comes in a variety of colors and sizes and is a durable and excellent choice.
Brick
The beauty of a brick patio never goes out of style. Our team can install a traditional pattern, or you can get creative with your brick layout. A brick patio or walkway adds charm, durability, and timeless beauty that everyone can appreciate.
Pavers
Pavers are manufactured pieces that have the look of natural stone at a more affordable price. They can be made from sandstone, granite, concrete, brick or a variety of other materials. Pavers offer low maintenance, a lower price tag, and can easily be removed and replaced if necessary.
A Little Of Everything
To shake things up and create a low maintenance outdoor flooring surface, our designers can create a mix of flagstone, colored tile, pea gravel and other materials to create a colorful combo that is easy to take care of and a delight to behold.
When it comes to outdoor flooring options, there have never been more fantastic choices. Talk to our designers at Daniels Design and Remodeling about all your options, and we will help you create the outdoor deck, patio or living space of your dreams.