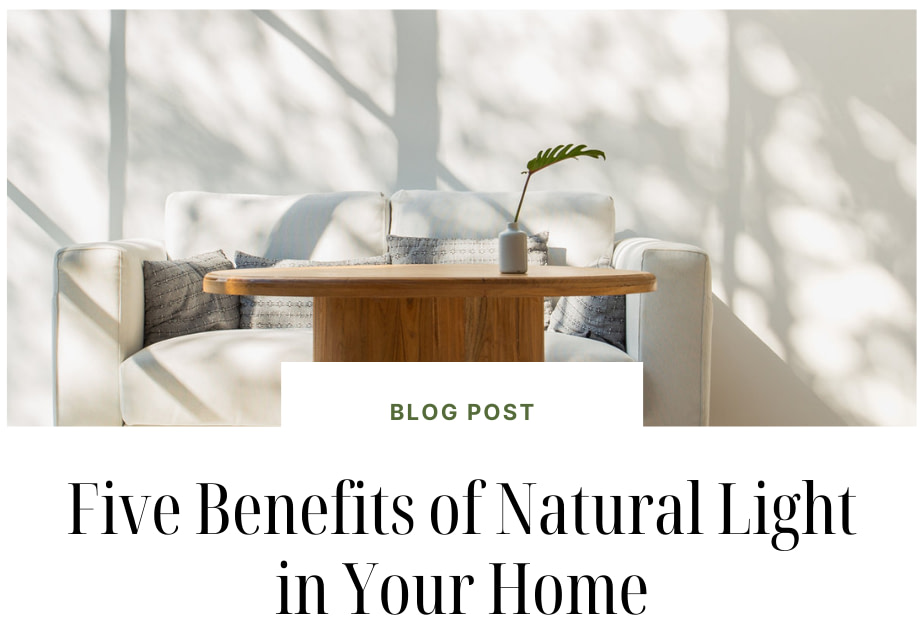 There are many reasons to consider and incorporate natural lighting in your remodeling or renovation project, including boosting mental health, lowering heating costs, and being more productive. Northern Virginia homeowners are in a good position to reap those benefits. Fairfax County, for example, sees an average of 198 sunny days per year. Here are 5 reasons natural light should influence your remodeling plans: Reason #1: You'll use lamps less often. Designing more natural light into your home allows you to use less artificial light. When you use lighting fixtures less, you reduce the 20% of your energy bill attributed to lighting. Reason #2: The light can help warm your home. On average, 29% of your annual energy expenses are from heating your home. You can use the sun streaming indoors to generate additional heat, which may let you leave your furnace off on those slightly chilly late spring or early autumn days. Reason #3: You'll get more vitamin D. Sunlight offers an endless supply of vitamin D, a nutrient that has been shown to reduce the risk of heart disease and certain kinds of cancers and prevent weight gain. Reason #4: It's a mood booster. Numerous studies have shown how regular exposure to natural light reduces the frequency of depressive symptoms, poor mood, and insomnia. Getting more sunlight indoors can have a positive effect on your mental health. Reason #5: It can make you more productive. When you feel better, you can get more done. One study found that workplaces that utilize daylight had more employee comfort, productivity, and regulated circadian rhythms. We always work to include natural light in home office remodels.
How to Get More Natural Light
There are many ways to incorporate natural light in home remodeling. At Daniels Design and Remodeling, we also include natural light as one part of the complete design process. Over the years, we've developed a few tricks to ensure we bring all the benefits of natural light into our plans and into your home.
Look East (and West, and North, and South)
The path of the sun throughout the day isn't constant over a year, but it tends to remain consistent enough to be built into your remodeling design. Place windows to the east or west to capture sunrises or sunsets but remember that that tactic may leave your home without direct sunlight for much of the day. Large north- and south-facing windows, patio doors, and full-size picture windows often provide more consistent lighting.
Low-profile Curtains and Drapes
Curtains, drapes, and blinds offer privacy and even a degree of temperature regulation when closed. However, to maximize natural lighting, opt for designs that completely clear the window to ensure plenty of light gets in. Avoid using styles that hang over or cover any portion of the glass when not in use.
Use Mirrors to Reflect Natural Light
Homes and rooms under renovation can be designed to use strategically placed mirrors to reflect natural light and better illuminate a room. Mirrors can also make a room appear larger than it is. It's beneficial to place mirrors and reflective metal surfaces in direct sunlight whenever possible.
Add Brilliance to Your Home Remodeling Project
At Daniels Design and Remodeling, we use our award-winning design and build process and in-house architects to make your remodeled or renovated space reflect your unique taste. Let us enhance your kitchen remodel, living space remodel, or home addition with the benefits of natural light, green building materials, and years of experience. Start your conversation with Daniels Design and Remodeling today.