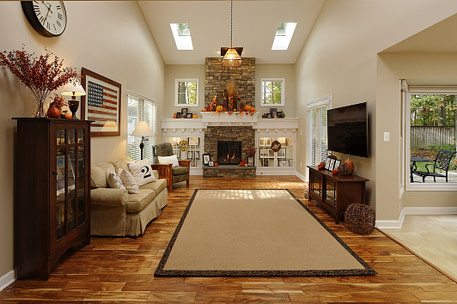 Winter in Northern Virginia is not the harsh one our Northern neighbors experience, but there are still some preparations you can take this fall. Whether you choose small projects or a big dramatic one, making changes this fall will lead to a cozy holiday season and an increase in your home's value.
Replace Windows
Fall is the perfect time to install replacement windows in your home. This is one of the best things you can do increase your home's energy efficiency. Energy efficient windows make your heating and cooling systems much more efficient. Double and triple paned windows are filled with argon gas to keep your home comfortable all year long. Window replacement also increases your home's value.
Add a Wood Stove or Fireplace
A wood burning stove is an excellent and efficient way to heat your home in cooler temperatures. It can be place anywhere in your home, is great for the environment, and provides plenty of heat during power outages. New wood stoves are available in a variety of attractive styles that complement your home. Adding a fireplace is another dramatic change you can make to your home. It provides a central gathering spot for the family and a great focal point for the holidays.
Improve Siding
Replacing outdated siding on your home gives you a dramatic change to the exterior of your home. Besides adding great curb appeal to your home before the holiday season, replacing siding will decrease your winter energy costs. Insulated siding increases your home's thermal efficiency, or R-value. Today's siding is also wind and impact resistant, making your home more resilient in winter storms.
These are just a few of the fall renovations Daniels Design and Remodeling can help you with. Give us a call to start the conversation about window replacement, adding a wood stove, replacing your siding, and other renovation projects that will get you ready for winter in Northern Virginia.