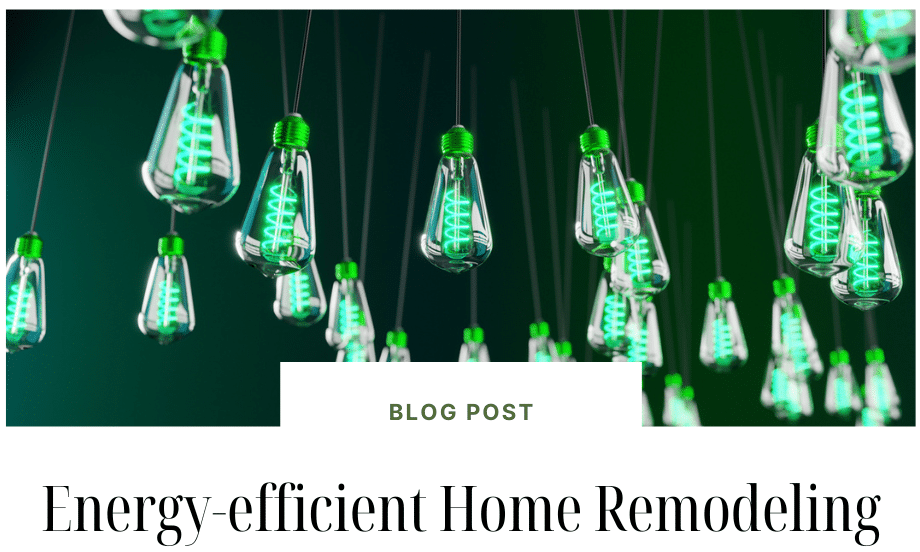 Every remodeling project involves balancing mix of priorities. From choosing the right design and deciding on materials and fixtures to maximizing natural light, there are plenty of decisions to make. Home energy efficiency has become a top priority for many of our Northern Virginia remodeling clients, presenting homeowners with another important layer of decisions to make.
Our team is committed to meeting and exceeding your energy efficiency and green remodeling expectations. Schedule a conversation to learn more about our commitment to sustainable remodeling practices.
What Makes a Home Energy-efficient?
Energy-efficient homes conserve energy, locking the owners into low monthly utility bills during their time in the home.
You can make your home more energy efficient through innovative home design and green remodeling practices, including installing the latest efficient HVAC and Energy Star-rated home appliance solutions. These are just a few ways you can prioritize home energy efficiency as a part of your remodeling project.
Characteristics of Energy-efficient Home Design
Materials, size and design characteristics all play a role in conserving energy and minimizing your home's climate impact.
Size and Shape
Larger homes tend to have a larger environmental impact because they require more materials to build. As your home's square footage increases, its surface area also gets larger. This increases the rate of heat transfer and air loss, which can lead to increased heating and cooling costs.
Floor plans also impact energy requirements. Vaulted ceilings, open floor plans and multi-story homes tend to increase HVAC expenses. Consider subdividing large open spaces as a part of your remodeled layout.
Windows and Natural Light
Your home's orientation allows more or less sunlight through windows, which has several benefits and disadvantages.
Rooms With East-West-facing Windows
Ample natural light throughout the day
May be warmer in cold months thanks to direct sunlight
May require additional window treatments
May be too hot during the summer months
Rooms With North-South-facing Windows
Tend to have less natural light
Will stay cool during summer months
May get cold during winter
Windows, Doors and Insulation
Between 25% and 30% of HVAC energy loss is through windows and doors. We can help you evaluate any new windows or doors included in your remodel to ensure they meet the highest Energy Star ratings possible to mitigate heat gain or loss.
Roofing Materials
Home additions that require extending the roof allow you an opportunity to upgrade to more energy-efficient roofing materials. If your roof is getting on in years, replacing the whole roof at once with energy-efficient materials saves time and hassle later.
One option, known as a cool roof, reflects sunlight instead of absorbing it. You can choose reflective materials including certain shingles, rock, metal, and tile for your cool roof. Traditional black shingles retain solar heat and gradually increase interior temperatures, especially on hot summer days. Cool roofs are a smart investment to reduce your home's cooling needs.
Choosing Efficient Appliances and HVAC Equipment
Many Northern Virginia homeowners use their renovation as an opportunity to replace natural gas and propane HVAC and appliances with electric alternatives. This reduces emissions by taking advantage of the ever-expanding renewable energy from Dominion Energy. Some electric appliances also use a lot of energy. Many clients also upgrade their refrigerator to a new Energy Star-rated model as a part of their energy-efficient kitchen remodel or make other electric appliance upgrades.
There are currently many federal incentives to take advantage of.
Here's how average US home appliances consume power:
Heating – 29%
Cooling – 17%
Water Heater – 14%
General Appliances (Dishwasher, Clothes Washer and Dryer, Refrigerator) – 13%
Lighting – 12%
Electronics (TV, computers, etc.) – 4%
Miscellaneous – 11%
Energy-efficient Home Upgrades
You don't have to wait for a remodel to reduce your home's energy consumption. These types of improvements increase home value and lower monthly expenses.
Install an air-source heat pump. When upgrading your HVAC system, consider choosing an air-source heat pump to heat and cool your home. Heat pumps are an excellent choice for Northern Virginia's temperate climate – and adding a heat pump could increase your home value by 4-7%! (They now come with significant federal incentives.)
Install a smart thermostat. Smart thermostats automatically adjust your home's heating and cooling settings to optimize comfort and minimize waste. One study found that even top-notch smart thermostats pay for themselves in about two years, lowering heating costs between 10 and 12% and cooling costs by 15%.
Invest in professional air sealing. Have your home professionally inspected and sealed. Professional air sealing is an in-depth process that uses weather stripping, insulation and ventilation to create a thermal barrier between inside and outside air. The return on investment for professional air sealing ranges between 83% and 107% depending on where you live and the state of your existing insulation. We can plan and implement professional sealing, seamlessly including it with the rest of your renovation.
Improving Home Energy-efficiency with Your Remodeling Project
Your Daniels Design and Remodeling project manager can help choose, source and install more sustainable appliances and construction materials, plus design your space with energy use in mind.
Ready to get started? Schedule a conversation with us today!
More from Daniels Design & Remodeling
More Resources