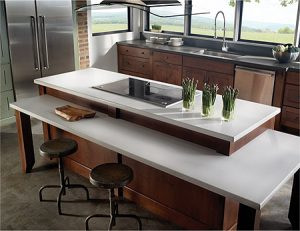 When you are doing Northern Virginia kitchen remodeling, it's the perfect opportunity to make your home greener by choosing environmentally sustainable materials for your kitchen countertops. There are a wide variety of beautiful options that are better for the future of our planet.
Bamboo
Bamboo kitchen counter tops are a very environmentally friendly choice. Bamboo is actually a grass and is the fastest growing plant on the planet. This makes it a renewable resource that has many uses in remodeling for flooring, countertops and more. The strong bamboo stalks are cut into strips and then pressed together to make an incredibly durable and versatile material with the look of wood. It is very strong and won't expand or contract when wet, which makes it a great choice for kitchen countertops.
Salvaged Wood
If you love the look of real wood but don't like the thought of trees getting chopped down, consider salvaged wood for your countertops. Salvaged or reclaimed wood is a great choice to add great character to your home. Salvaged wood countertops have a wonderful patina, and sometimes are wood that isn't available anymore for purchase. Reclaimed wood has a one of a kind look and add a true sense of history to your home.
Recycled Glass
A new option for kitchens is recycled glass countertops. Recycled glass gives the look of marble or granite, but is a sustainable resource. These countertops can be created in any color and a variety of patterns, so they can be as unique as you are. They are also surprisingly strong and durable because the glass is held together with either cement or resin.
Recycled Paper
While it might not seem possible, countertops made out of recycled paper are becoming more and more popular. Environmentally friendly homes get the best of both worlds, beauty as well as an eco-friendly material. Recycled paper is mixed with pigments and petroleum free resin to create a countertop with a feel similar to soapstone.
Stainless Steel
Stainless steel is a striking and smart choice because it contains over 60% recycled material. It is also durable and long lasting, which is why it is a staple in so many commercial kitchens around the world. Another attractive feature of stainless steel is that it can be recycled again at the end of its use.
Certifications To Look For
When shopping for environmentally friendly home building materials, look for three certifications that tell you that your purchases are legitimately green. GreenGuard certification lets you know products have low chemical emissions to improve your indoor air quality. Cradle to Cradle certification means products have a long life, and also that they are safe for people and the earth. The Forest Stewardship Council makes sure that wood comes from forests that practice responsible harvesting.
These are just a few of your environmentally friendly choices for kitchen counters. Talk to Daniels Design and Remodeling about sustainable options in recycled products, butcher block, and other materials. Many companies are dedicated to making green, sustainable materials for your Northern Virginia Kitchen remodeling project. Call today to start the conversation.