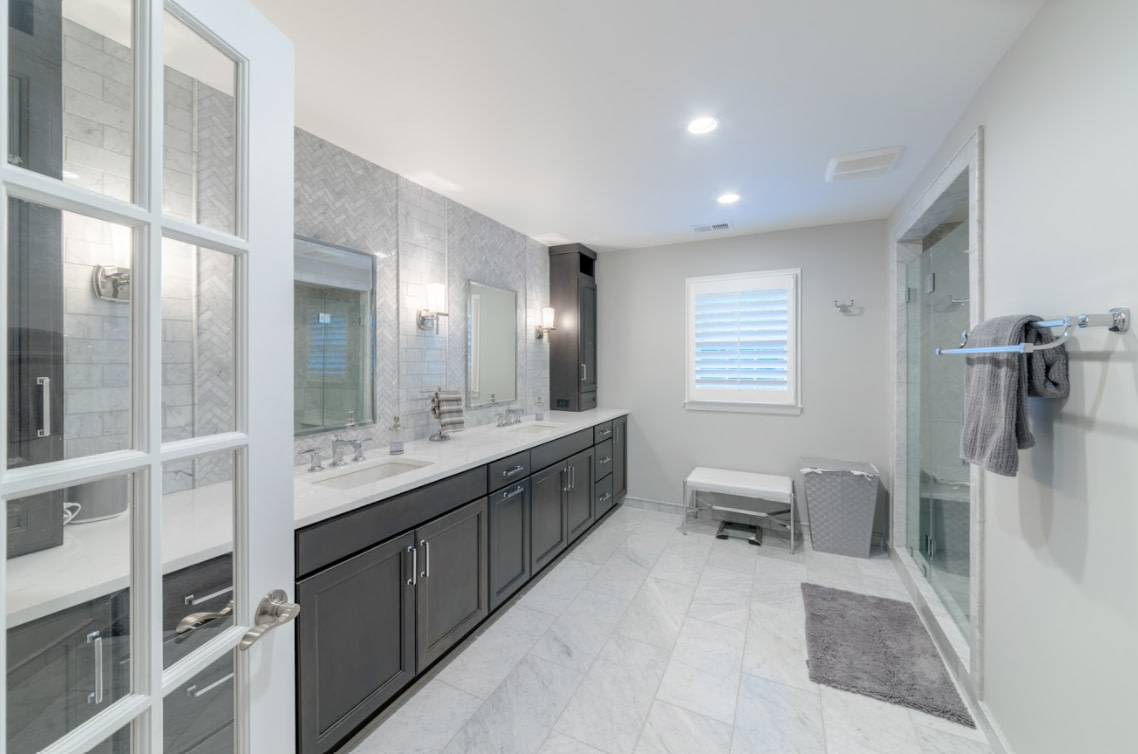 When Daniels Design and Remodeling creates a new space for our clients, we take pride in bringing their vision to life. More than ever, our clients seek sustainability. So today we're sharing how to make a bathroom more sustainable.
Sustainability Comes Home to Northern Virginia
Every building material and design element has a carbon footprint well before it reaches your home, and many northern Virginia homeowners have expressed interest in sourcing sustainable materials as a part of their bathroom renovation. According to a Nielson study, 73% of millennials are willing to spend more money on sustainable products. Across all age groups, 66% of those polled recognize the importance of implementing eco-friendly building supplies into their next home renovation project.
What Is an Eco-Friendly Master Bathroom?
The goal of a sustainable bathroom renovation is to reduce the consumption of natural resources, reduce waste and ensure a healthier space for the homeowner.
While appliances are measured by the amount of energy they require to run, sustainable building materials are primarily measured by the energy they take (or don't take) to make, the natural resources they consume (or preserve), and by their lifespan – when they might need to be replaced.
Creating a sustainable bathroom often requires additional expense and a small amount of extra planning but, ultimately, creates a more rewarding renovation with improved indoor air quality.
Daniels Design and Remodeling can bring sustainability to your bathroom update or a complete home renovation.
How to Sustainably Remodel Your Bathroom or Master Bathroom
Below are just three ways to make sustainability a part of your bathroom remodel.
1. Explore Eco-Friendly Building Materials
At the onset of your project, select recycled materials like aluminum, glass, bamboo and some reclaimed or restored hardwoods. Recycled materials are the same as, or mimic, the appearance of standard building supplies while reducing your overall carbon footprint. Many composite materials are manufactured from recycled plastics and are exceptionally well-suited for bathroom countertops and vanities.
Consider purchasing bathroom elements constructed from:
bamboo
straw
cork
linoleum products (more about this below)
wool
 wheatboard
strawboard
2. Choosing Sustainable Bathroom Flooring
Choose tile or linoleum over vinyl, which is made from petroleum products and is very energy-intensive to make. Linoleum is a natural material that has evolved over the years from a somewhat tacky-looking sheet to one that comes in a wide array of colors and finishes and has become a top choice for designers. Cork, too, offers a natural and renewable option. While it has only recently become popular, cork has been an outstanding flooring material for more than a century. It offers excellent acoustic benefits, has antimicrobial properties and can be sustainably harvested. Is porcelain tile sustainable?
One common question we get about sustainable bathroom flooring involves porcelain and ceramic tiles. Tile is an exceptional choice because it is made from naturally occurring clay and minerals. This makes it a more attractive option compared to energy-intensive materials like concrete, which also uses a number of petrochemicals to cure effectively. Most often, the clay used for tiling is sourced within 500 miles of the manufacturing site, reducing the carbon footprint of additional transportation.
3. Light Your Master Bathroom with Energy-Efficient Lighting Fixtures
No matter the décor or design you envision, it will include lighting fixtures. Few decisions are as important in a bathroom renovation as selecting the right fixtures as a part of a beautiful yet functional space. Luckily, it is easier than ever to find energy-efficient lighting options that match your chosen aesthetic while also providing a suitable amount of light for your vanity, tub and the space. Build Your Dream Bathroom with Help from Daniels Design & Remodeling
We have served our friends and neighbors here in Fairfax, Virginia, and surrounding communities since 1997. Daniels Design & Remodeling is dedicated to bringing new ideas and fresh looks to every project. Whether you're looking to renovate a space you already love or create a new addition to your home, trust our process to give you design options that match your taste and a team of craftsmen to bring it to life.
Any remodeling project is an exciting opportunity to make our home reflect our personality and our values. Build sustainability into your reimagined bathroom or master bathroom. Learn more about our green remodeling options or schedule a conversation with us.