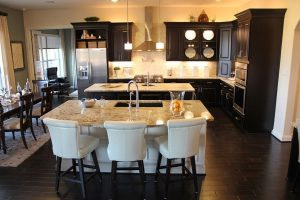 If you have a kitchen island in your home, you probably wonder how you lived with out it. An island is one of the top requests when homeowners start their Northern Virginia kitchen remodeling project. There's good reason for this. A kitchen island is the hub of activity in the house, a great space to work, eat, and gather to enjoy each others company. The newest trend in kitchen remodels goes one better. Double island kitchens are showing up in kitchen layouts all over Virginia, and they open up a world of possibilities in the most popular room in the house.
Great For Cooks
Kitchen remodels featuring double islands are a dream for cooks. When preparing a meal, an island is the ideal place to spread out, but not if everyone is trying to gather around or eat at the island too. Double islands designate one island specifically for the chef, allowing them the space they need to get creative. Adding a work sink in the cook's island is an added bonus.
Awesome For Entertaining
Everyone knows people always wind up in the kitchen at a party. When you have two islands instead of one, entertaining becomes even easier. Guests can congregate and there's still plenty of counter space for food and drinks. Two islands also offer more seating options for a casual dinner party or family get togethers. You can even add a leaf between them if you have a large group to accommodate.
Creative Use Of Space
Double islands let you get creative with the space you have. They work well side by side in a narrow kitchen. They help with the flow of the room no matter what kind of layout you have. The space between gives you a space to walk through to get to the range or fridge, and double islands give you twice the storage space underneath.
Whether you are planning a full Northern Virginia kitchen remodeling project, or just want to revamp the kitchen you have, double islands could be the solution you're looking for. Our designers are on hand to discuss your goals for your new kitchen, and how to achieve them. Call today to start the conversation!