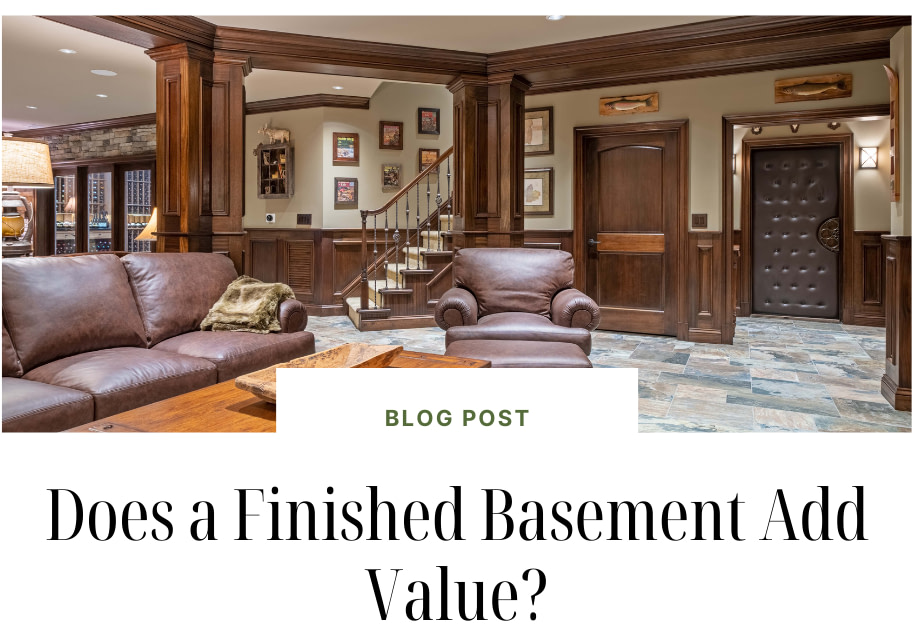 For homeowners in Northern Virginia looking to increase their property value or the size of their family, adding a bedroom to the basement is often one of the first options on the table. Is it the best home remodeling project to increase your home's resale value though? Let's take a closer look.
Finished Basements: An Impressive ROI
Adding a bedroom to an unfinished basement should always be a part of a complete basement remodel. In addition to improving the comfort and aesthetics of your home, it also contributes more livable space for everything from a home office to a short-term rental.
Finished basements are an excellent investment. The average basement remodel has an ROI of 70%. That number increases slightly if the home has a walk-out basement or a dedicated way to access it because it offers the opportunity for long- or short-term rental income.
How Much Does a Finished Basement Add to Property Value?
Basements aren't included in your home's appraised square footage because it is below ground. Still, basements certainly add value. They are usually listed as a unique line item in the home appraisal and given roughly 50–70% value of the home's above-ground value.
70% is impressive, but it's not the best investment to make. A minor kitchen remodel averages more than 80%.
Do Bedrooms in Basements Add Value?
While a bedroom above ground would add more value, the cost of creating space is often considerably more and may be impacted by the structure of the house or how close your home is built to the property boundary. However, because it's below ground, a basement bedroom won't increase your property taxes nearly as much.
Adding a bedroom to the basement won't technically increase the official number of rooms in your house. Instead, it is noted separately in the appraisal like basement square footage.
Basement bedrooms must also meet certain criteria. One of the most important elements is the presence of an egress window. Northern Virginia's Universal Building Code states that egress windows are required for permanent basement occupancy, which includes the presence of a bedroom. Egress windows in Northern Virginia must be:
Minimum Opening Area: 5.72 feet above grade (this much of the opening must be above ground)
Minimum Opening Area: 52 feet below grade (this much of the opening must be below ground)
Minimum Width: 20″
Minimum Height: 24″
Contractors must also obtain permits to install egress windows and have the windows inspected.
That's not all. Basement bedrooms must also be:
At least 70 square feet
Have ceilings at least 7 feet high
Have proper ventilation and heat
Have flooring, walls, and lighting
It's also important to work with an experienced contractor who can meet all the local building requirements and building standards.
The final takeaway? Adding a basement bedroom may not pay for itself, but it does add value to your property. There are other things to consider, however. This functional space adds value by potentially serving as a source of rental income. It could also help support another family member by having their own private space.
Bedroom Basement Remodeling in Northern Virginia
Daniels Design and Remodeling is a trusted home remodeling and renovation contractor based in Fairfax, Virginia. We offer Fairfax County and surrounding communities a trustworthy and professional design and construction partner to help homeowners reinvent their properties to meet their needs. Let's bring your home renovation to life. Schedule a conversation with Daniels Design and Remodeling today.