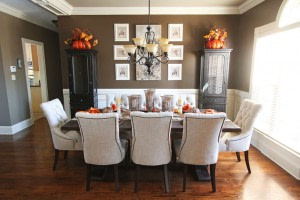 Thanksgiving means enjoying our family and friends, being grateful for what we have and most of all, gathering around an abundant dining room table. The kitchen and dining rooms take stage at at the holidays, and we've got some dining room renovation ideas that will create a beautiful Thanksgiving memories.
Hang a Chandelier
Is your dining room lighting selling your room short? Adding an updated lighting fixture over the table creates an intimate and welcoming space. Choose a fixture that suits your style and home. A grand, sparkling chandelier may set off the room perfectly, or choose something in a mission or craftsman style. Use your imagination!  A shell chandelier paired with an ocean and sand color scheme give a dining room a beachy feel.
Cove Ceiling
A cove ceiling creates wonderful visual drama in a dining room. It gives the room a sense of majesty, and your guests will love to gather beneath its curves. A coved ceiling improves the look of the dining room where the wall meets the ceiling, and can feature dramatic details and layers.
Add Wainscotting
Add a wonderful sense of detail and charm with the addition of wainscoting to your dining room . Taking the chair rail a step further, wainscoting can be a beautiful natural wood to add warmth to your room or be painted raised panels for a more contemporary look. It gives your room instant character and serves its original purpose of protecting your walls from damage.
Create A Pass Through
Taking down part of the wall between the kitchen and dining room can be a great way to visually increase the space in both rooms. It also lets more light into the dining room. Our team can help you determine which walls are load bearing walls and which aren't, and come up with a plan to open up your dining room to allow food and conversation to pass through freely.
Improving your dining room ensures your family and friends will enjoy Thanksgiving around your table for many years to come. We would love to discuss our dining room designs with you. All of us at Daniels Design and Remodeling are grateful for our amazing and loyal customers, and wish you a wonderful Thanksgiving holiday.