If you are thinking about getting your kitchen redone, then you will certainly have a lot to think about. You'll need to consider the style of kitchen you want to go for, and you'll also need to think about how you are going to reflect the overall theme of your home. Of course, this can be difficult if you just don't know where to start. That is why we have created this guide for you so that you can assess your options and make your kitchen feel as though it's the heart of your home. 
Cottage Kitchens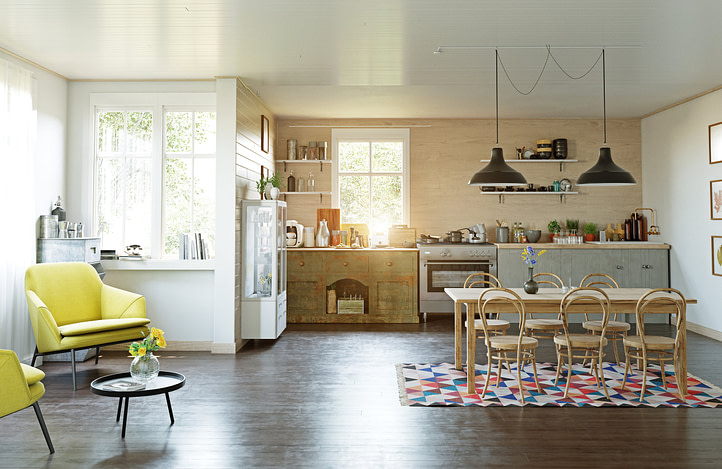 It doesn't matter whether you have a large home or a very small property, because a cottage-style kitchen is ideal if you want your home to feel welcoming. Cottage kitchens are designed to feel welcoming, and they traditionally consist of white cabinetry, oak countertops and a neutral color scheme. If cream or white isn't quite your style, then don't be afraid to delve into other cottage-style colors. This can include pastel colors and shades such as duck egg blue.
Farmhouse Kitchens
Farmhouse kitchens tend to evoke a sense of warmth and comfort. They usually offer a high level of functionality, and they also have open shelving. You may also find that they have very wide sinks and classic wooden flooring. Solid wood is another feature of a classic farmhouse kitchen, along with rustic cabinetry handles. If you want to have a farmhouse-style kitchen without compromising the modern look of your property, then consider opting for navy blue cabinetry instead. The dramatic color scheme will add a bold statement to your kitchen and it will also make it feel much more contemporary.
Industrial Kitchens
Industrial kitchens tend to put a prime focus on raw materials. Sometimes exposed brick or concrete is used to try and instill the theme with wooden unfinished shelving. Exposed steel is very popular, along with metal pendant lights. Industrial kitchen lights tend to have warm yellow bulbs, sometimes without a shade.  This helps to elevate the kitchen to a whole new level. The countertops are often made out of a metal-effect material, but wood is also a popular option. Large clocks can be used to accent the metal décor, and you can also have stools with metal frames to make the kitchen feel more unified.
Contemporary Kitchens
Contemporary kitchens are normally associated with dark colors. Forest green and navy blue are very popular colors. Marble countertops and white tiles are also very popular. With a contemporary kitchen, you'll want to have sleek yet strong hardware, with a prime focus on horizontal lines as opposed to vertical. A lot of people see contemporary kitchens as being stark or cold, but it doesn't have to be this way. Although contemporary kitchens do tend to be darker, it's very easy for you to add warmth by adding a wooden floor or ceiling. Homely elements can also add a very welcoming feel to the space, giving you the perfect balance of both worlds.
Rustic Kitchens
Rustic kitchens are in huge demand right now. The great thing about rustic kitchens is that you can go as rustic, or as tame as you want. Rustic kitchens nearly always have distressed or reclaimed wood. They also have wooden ceilings and kitchen hoods. If you want your kitchen to look great then grey wood is a popular choice right now, along with wooden ceiling beams. You can also opt for pendant lights if you want to cast some good light on your dining table.
Craftsman Kitchens
Craftsman kitchens often put an emphasis on natural materials. You also have sturdy proportions. The Craftsman style is a period that works incredibly well with the comforts of today. They tend to have vintage lighting along with latches and pull hardware.  Wood tends to be a prime focus, with wooden floors and cabinetry being very popular. Colors such as lilac, olive green and powder blue tend to be very popular.
Contact Daniels Design & Remodeling in Northern Virginia
If you want to make sure that you get the best results out of your kitchen then you will find a lot of different options to choose from here. All of the kitchens listed here have been very popular over the years, not to mention that it is very easy for you to tweak each one so that it provides the level of functionality your family need.
Daniels Design & Remodeling is Northern Virginia's premier boutique remodeling contractor. Our team is educated and experienced in kitchen remodeling and will provide expert guidance throughout the entire remodeling process. We are happy to answer those questions and give you some insight into what a kitchen remodeling project for your home might look like. If you want to find out more about our kitchens or the services we can provide you with, be sure to schedule a free design consultation. We look forward to hearing from you and learning more about your home, family, and upcoming projects!