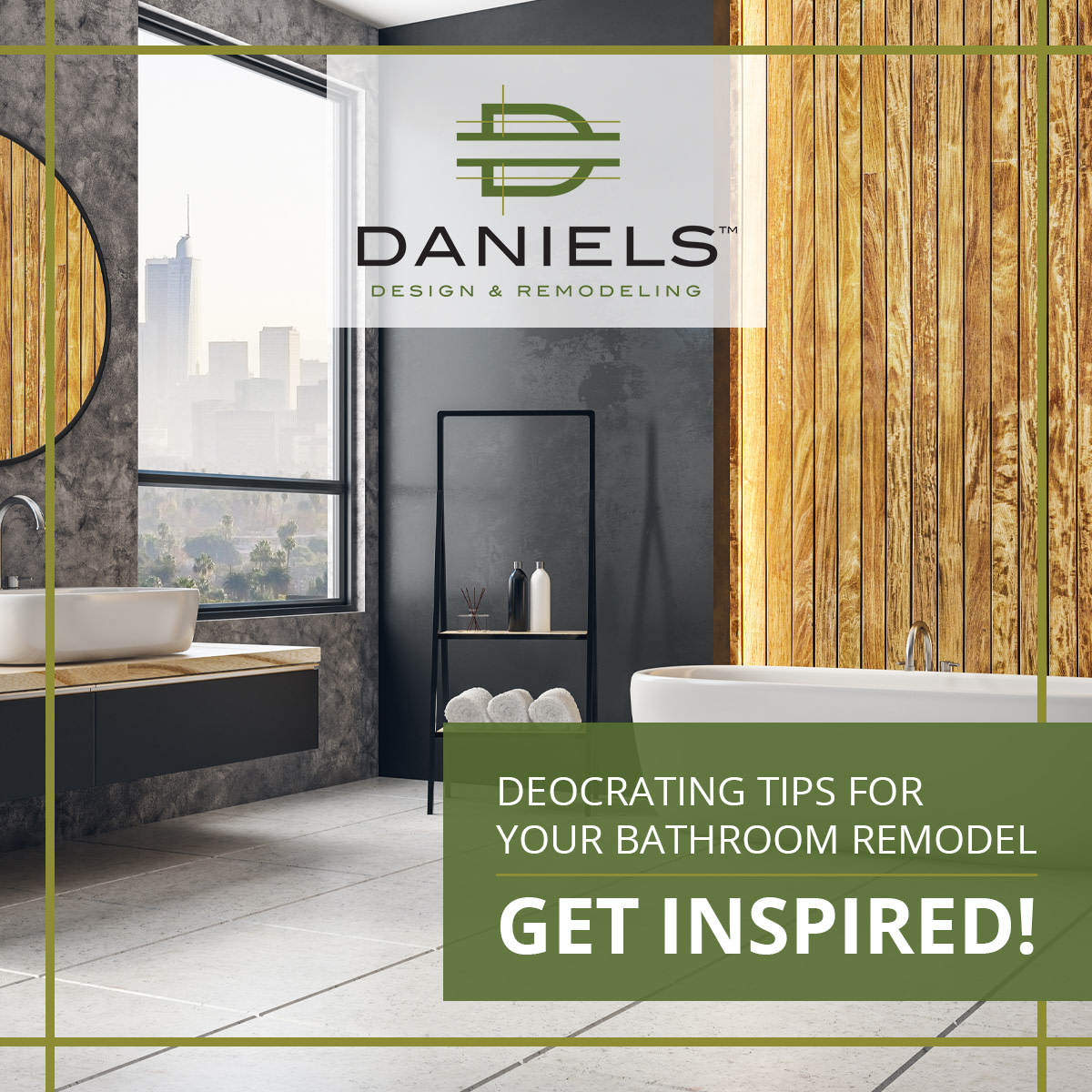 Outside of the kitchen and bedroom, you spend a lot of time in the bathroom, from getting ready in the morning to preparing for bed at night. You brush your teeth, comb your hair, and put on your shoes. You shave if you're a man and put on makeup if you're a woman. Plus, you perform other duties that are a part of daily living, so it's important that your bathroom is comfortable, inviting, convenient, and just how you like it.
Daniels Design & Remodeling is a home renovation company based in Fairfax, Virginia, and serving all of Northern Virginia. We've been the premier home remodeling company in the area since 1997. We offer bathroom and kitchen remodels, outdoor living space remodels, home additions, and porches and patio remodeling. We are also a green remodeling company, committed to using sustainable materials, high-efficiency appliances, and recycling construction waste to help our environment and lessen our carbon footprint on the earth.
Now that you've had your bathroom remodel completed by our home renovation company, it's time to spruce it up and make it your own. Below are some decorating ideas for your bathroom remodel. Contact us today to get started!

Add Life
When you add in a touch of green to your new bathroom remodel, you'll not only brighten up your bathroom, but you'll be adding in vitality as well. Plants are known for helping to reduce stress and create a feeling of well-being. The color green is calming and soothing and symbolizes life, growth, and energy. Plants help improve air quality by ridding the air of carbon dioxide and some pollutants and replenishing the air with life-giving oxygen. Plants can give us a sense of companionship, since they are living beings as well. When you talk to your plants, you are not only finding a great way to talk out your problems and brainstorm, but you are helping them to grow with the carbon dioxide you are letting out. All of these benefits could be very beneficial to your bathroom remodel by Daniels Design & Remodeling in Fairfax.

Add Wall Art
Many of us love to come home after a long day at work and running the kids around to a relaxing bath, especially in the winter. In fact, having a big soaking tub may have been one of the driving forces behind your home renovation. There are many benefits of hot baths as well. Baths help to lower blood pressure, relieve muscle tension, lower our blood sugar, and helps us to fall asleep faster. Hot baths help to reduce anxiety, improve your blood circulation, and moisturize your skin.
In your bathroom remodel, having wall art also helps to reduce your stress, and it enhances creativity. You can add a personal touch to your bathroom remodel, or make a themed bathroom. You can hang starfish and seashells on your bathroom remodel wall, or opt for a print of one of your favorite masters, such as Monet or Renoir. Daniels Design & Remodeling in Northern Virginia, a bathroom remodeling contractor, notes that wall art is a great addition to your bathroom remodel.

Add in Plush Rugs and Towels
After you've relaxed in your bathroom remodel tub, you want to step out into luxury as well. One way to do this is invest in some great new plush towels and bath mats. Your feet can not only get dry, but they can sink in as well, getting a mini-massage. And when you wrap yourself in a top towel, you almost want to sleep in it. Plush towels envelop you, keeping the heat in and drying you off quickly and comfortably. Plus, towels and bath mats are great ways to add color and texture to your new bathroom remodel that can be periodically switched out for a whole new look.

Add in Ambiance
Most of us enjoy a good mixture of warm and cold light in our bathroom since getting up first thing in the morning and flicking on the bathroom light can be jarring and blinding. However, you want bright light in order to see as well for the finer detailed-work that occurs in the bathroom, such as shaving and putting on your makeup.
Lighting can definitely reflect the mood, and adding in candles and small lamps to your bathroom remodel are a great way to create a softer mood and enjoy the quieter moments in your bathroom. Plus, scents can help us relax as well. The benefits of scented candles are many, since they give off essential oils that promote relaxation, help to reduce anxiety and stress, and aid in sleep. Plus, who doesn't love the smell of pine around Christmas time or a scented candle that reminds you of a spring breeze?
Furthermore, many people also enjoy nightlights in their bathroom remodel so they can see for the middle-of-the-night bathroom trips. Daniels Design & Remodelling in Fairfax notes that light just makes life better.
Add in a Dressing Area
Usually, your bathroom is incredibly warm, either from the steam of the shower or from the bath. In winter, it can be a bear when you swing open your bathroom door to your bedroom and the cold air rushes in, sending a shiver down your spine. Instead, many homeowners are opting for creating a dressing area in their bathroom remodel so that they can fend off the winter chill for just a bit longer. A dressing area can be simple, with just a chair and a rack to hold your clothes for the day, or it can be elaborate with a storage cabinet with all of your clothes and even a loveseat. Dressing areas are another unique way to make your bathroom remodel stand out from the crowd and be functional as well.

Storage Galore
There are now so many options for storage for your bathroom remodel that it can be hard to choose. You can choose from open shelving that reaches the ceiling to wooden cubbies that provide a great space for fresh flowers and floating shelves that can double as decor. You can put in a bar cart in your bathroom remodel that is on rollers or use storage baskets that sit conveniently under the sink. You can repurpose some bookshelves you have lying around, or one of our favorites, you can add in a bathtub shelf that is perfect for holding your glass of wine while in the bathtub.
Daniels Design & Remodeling in Northern Virginia, a bathroom contractor, can include storage in your bathroom remodel. However, many homeowners choose not to, instead opting for some of the above home decor instead.

CHOOSE DANIELS DESIGN & REMODELING IN NORTHERN VIRGINIA FOR ALL YOUR BATHROOM REMODELING NEEDS
Daniels Design & Remodeling in Northern Virginia is a bathroom remodeling contractor who offers the best home renovation, home additions, and bathroom and kitchen remodeling services. Our mission is to be the most customer centric, design and build firm in the home remodeling and construction industry, always putting customer satisfaction, quality, and craftsmanship at the core of every home remodeling project. Our home designers, carpenters, masons, and builders have decades of experience helping you with all of your home remodeling needs.
Daniels Design & Remodeling has over 20 years of experience helping you with cost-effective home remodeling solutions. By discussing with you your vision of your home renovation during our feasibility study, together we will craft a design for your home remodeling project. We will present you with three design concepts for you to choose from, deciding on materials and final details of your project. Then, the fun begins as we dive into the pre-construction and build phase of your home remodeling project. We obtain all of the necessary permits and update you weekly on the progress of your project. Our goal is to make the process as easy as possible for you by doing all of the legwork. We understand that a home remodeling project can be a big endeavor, so we work expeditiously to finish your project.
Finally, after all the work, we complete a final walkthrough with you so you can ask any questions or notice any missed details. We offer a 100%, two-year warranty on our work, always using the highest-quality materials with outstanding craftsmanship. Now, the best part: you get to enjoy!
Having any home renovation completed can be a relief and can make your home more suited to you. When you add in home decor touches, your space truly becomes your own. Contact Daniels Design & Remodelling in Northern Virginia, local bathroom contractors, today!