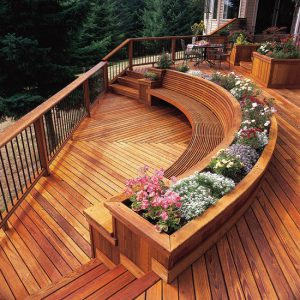 It's Spring and that means it's time for your deck to start taking center stage. There's nothing like a deck for creating the ideal outdoor space for dining, entertaining and just hanging out with the family. If you don't have a deck, or if your current deck is drab instead of fab, Daniels Design and Remodeling has some fantastic deck ideas for your Northern Virginia remodeling project this Spring.
Multi-Level Living
Our designers and builders are ready to take whatever is in your imagination and make it a reality. A dramatic, multi-level deck helps define spaces into distinct, usable areas. Take advantage of a great view with an elevated seating area, or step down into a hot tub and lounge area. A deck with multiple levels also lets you take full advantage of your site if you have a sloped backyard.
Shade Features
When considering a Northern Virginia remodeling project, it's important to keep our hot, sunny climate in mind. A deck with significant shade features is essential to avoid the beating sun. An arbor adds beauty and shade, and our designers will tailor your arbors style to match your home. A pergola also offers a shady spot, and gives you a perfect place to grow a sweet smelling flowering vine like Jasmine. The addition of large plants to your deck is always a smart idea to bring visual interest, natural beauty, and protection from the elements.
Merge The Indoors and Outdoors
Opening up your interior to the outdoor deck lets you enjoy both spaces together, and creates a beautiful sense of flow. Eliminating small windows and awkward stair placement is just the beginning. Add large windows or sliding glass doors to link your indoor and outdoor spaces, or use pocket doors that disappear completely into the walls. You can further visually link the spaces with harmonious flooring, furniture and colors.
Spring is the time to get your home ready for outdoor living. Our designers are ready to help you add a deck or remodel your existing deck as part of your Northern Virginia remodeling project! Multi-level decks, shade features and merging the indoors and outdoors will give your deck a wonderful wow factor that you'll enjoy for years to come.