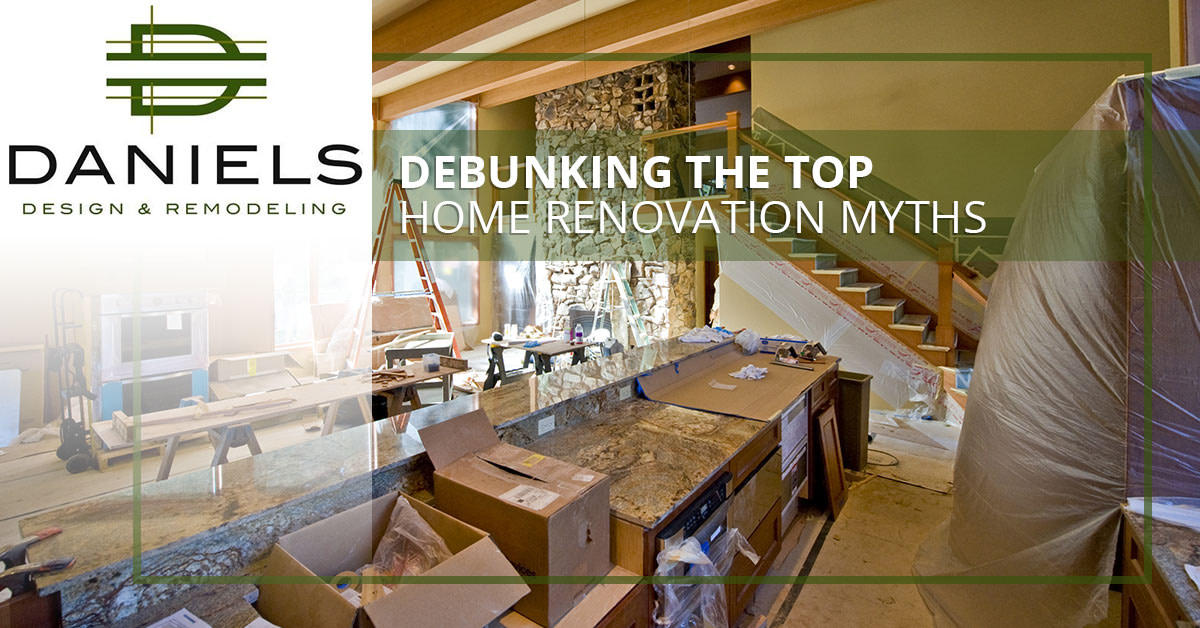 Don't let common home renovation myths keep you from enjoying the benefits of remodeling!
There are many different myths surrounding home renovations, and some of them even prevent people who could benefit from remodeling from taking advantage of it! At Daniels Design & Remodeling, the last thing we want is for people who could really benefit from remodeling to put it off or avoid doing it because they believe the myths, and that's exactly why we've set out to debunk them.
Myth #1. Renovations are never completed on time.
Remodeling companies — and really all contractors for that matter — have a bad reputation for never getting projects completed on time. However, that's not true when you hire the professionals at Daniels Design & Remodeling. While yes, delays can happen on occasion, we make it our top priority to finish all of our projects within the agreed-upon timeframe. And, if delays occur for any reason, you'll always be in the know because we make it a point to stay in frequent communication with our clients throughout every step of the renovation process.
Myth #2. Choosing the lowest bid is always the best option.
Before signing a contractor for any renovation, it's always smart to do your research on and get bids from multiple remodeling firms. This will give you an understanding of market rates, as well as experience and expertise. Too often, though, people simply choose the lowest bid. While we understand the need to save money, choosing the lowest bid for no other reason than it's the lowest may not actually end up saving you money. If the company isn't up to par, and they make costly mistakes during the process, you could end up having to pay more in the end.
Myth #3. You don't need to hire a home renovation company.
Thanks to YouTube tutorials and wikiHow articles, these days, many homeowners think they can do just about anything on their own. And yes, there are some minor renovations that many inexperienced homeowners could safely do on their own, but that isn't true of every remodeling project. Doing it yourself on a project that is too big or requires tools or experience you don't have is akin to hiring the wrong remodeling contractor — you potentially could save more money, but you're more likely to end up with a bigger bill in the end when you have to hire a professional to come in and correct your mistakes. To learn about which projects are DIY friendly and which require a professional, check out our previous blog!
There are many different myths about home renovations out there, and these are just a few of them. In our next blog, we'll be debunking a few more common remodeling myths, so make sure that you stay tuned to learn more!
In the meantime, now that you know the truth about a few of the most common myths, let us help you find the right remodeling solution for your needs! Daniels Design & Remodeling is proud to be your premier remodeling company, and we serve all of Northern Virginia. Don't wait; contact us today to schedule your conversation!