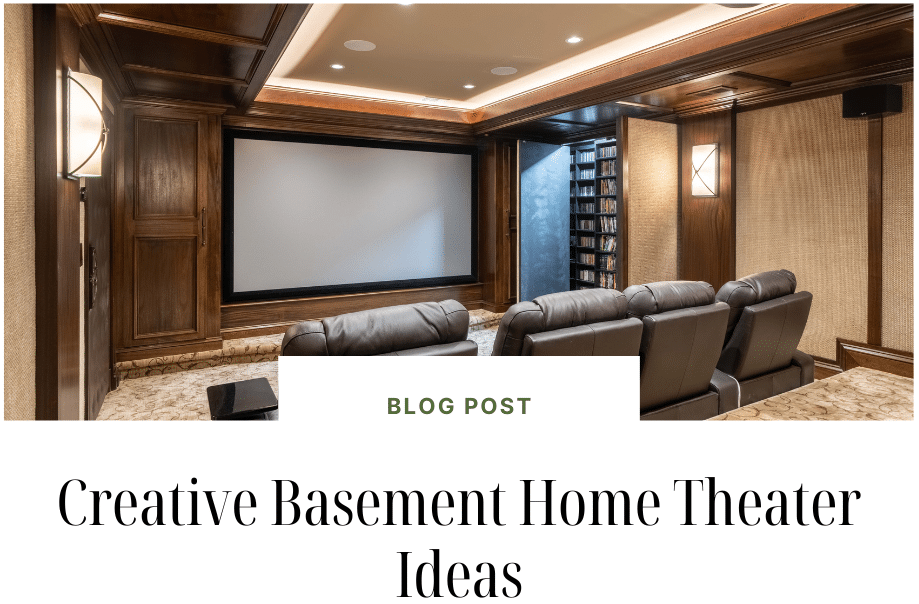 Bring the thrill of a blockbuster home! Basement home theaters are an excellent way to bring the family together, entertain or kick back in style.
If you're planning to convert your basement into a home theater or media room, there's plenty to consider.
Start by exploring creative basement theater ideas ahead of your next remodel …
Home Theater Design: Ideas to Get Started
There are plenty of things to consider as you start your basement remodeling project. When it comes to designing your theater set-up, the most important decisions will fall into three key categories:
Location
Lighting
Seating
1. Choosing Your Home Theater Location
Basements tend to be one of the quietest places in the home – that's great! Consider what elements in your basement – or wherever else you land for your home theater – could impact your "movie-going" experience.
Consider how nearby HVAC equipment or foot traffic on the stairs might impact your viewing experience. Conversely, when a midnight movie is in order, consider if the TV's sound will affect anyone sleeping upstairs!
Try to build your theater away from windows and stairs. You can further reduce sound issues by using acoustically optimized drywall that softens sound. You can also install carpet to absorb theater sound and avoid bothering everyone else in the house during your showings.
2. Considering Your Home Theater Lighting
Basements tend to be dark, which makes them ideal for mimicking a real movie theater. If your basement has natural light, use window treatments to mitigate light that could impact your viewing pleasure.
Plan on covering windows with blackout curtains or removing windows entirely from the theater area. Just be sure your basement meets Virginia's regulations for finished basements.
Consider Your Lighting Fixtures
Remember that you'll likely need several light fixtures to illuminate a large, tiered space like a home theater. Keep fixtures small if you have a smaller space, but make sure the steps and rows are safe and well-lit. Opt for dimmer switches to let you set the perfect mood.
3. Planning Your Home Theater Seating
One of the biggest design challenges is building comfortable seating that gives everyone an unobstructed view of the screen. Think about how many will be watching at any given time. Design your seating arrangements for the average number of viewers, not the max; this will ensure you deliver an excellent experience for viewers – with room to squeeze in a friend or two.
How Much Space Do You Need for Home Theater Seating?
Unless you have plenty of square footage to work with, aim to create a 20 x 15-foot space to dedicate to the project. A smaller home theater may not seat as many, but it can improve the audio and visual experience by giving everyone a clear view and proximity to speakers or sound bars. But every basement is different, so you'll likely make the most of the room you have.
Related: Building a Home Basement Bar
Elevated Home Theater Seating
Like the local cinema, elevated seating gives everyone a better view. Plan on elevating each row by 24″-36″. Depending on your basement's ceiling height, that could make things a little tight if you have more than two rows of recliners (or particularly tall friends)! Not everyone will opt for elevated seating, and that's okay, but keep seating top of mind throughout the process.
Movie Magic: Home Theater Accessories
Put the finishing touches on your home theater with the small details that have a big impact.
Color Scheme
From plush leather recliners to a red carpet, think about your home theater color scheme. If natural light is available, you might opt for darker upholstery and paint to absorb light. Your theater space is an excellent opportunity to break completely with the palette used elsewhere in the home; stepping into the theater could be made to feel like you've been transported!
More Fun Ideas
Hang classic movie posters on the walls
Add a real popcorn machine
Add built-in storage below the screen to keep video game controllers, remote controls, blankets and other must-haves neatly organized
Hang a "Coming Soon" whiteboard for family members to request future showings
Does a Home Theater Increase Home Value?
Most homebuyers would agree that a home theater adds value, but it isn't true for everyone. There's no set return on investment for basement home theaters. As long as it adds value to you and your family, it's worth it.
Get Creative with Daniels Design & Remodeling
Our team of designers excels at reimagining existing spaces, and we've been helping Northern Virginia property owners enrich their homes to reflect changing needs and interests. See what's possible; schedule a conversation with Daniels Design and Remodeling today!