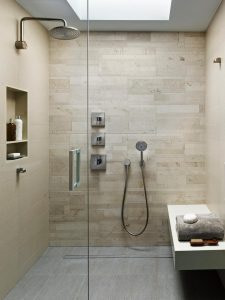 When you begin your Northern Virginia master bathroom remodel, let your imagination run wild. If you have always dreamed of having a luxury master bathroom shower, there's never been a better time to make that dream come true. There is an incredible variety of options that can turn any bathroom into a spa-like experience. Here are some of the factors we suggest you focus on to create a luxury shower that can change your outlook on life.
Shower Systems
The sky is the limit when it comes to today's options in shower heads. Shower systems can feature a large overhead rain shower, as well as a hand-held shower with spray patterns like round, waterfall, and full. These systems can also include multi-function shower heads that can give you a variety of massage options.  Body sprays can be installed into the walls for total relaxation and relief from aches and pains.
Custom Tile
Even small details in your shower tile work can make a big impact. Now is the time to choose tile that expresses your personality, and add bold details and patterns that will make your shower one of a kind. Whether it's glass, ceramic, porcelain, cement, or any other material, your tile choice is something you will enjoy each and every day.
Doorless Showers
The new trend is large, doorless shower areas you can walk right into. Doorless, curbless showers also are a smart Universal Design choice when you are planning to stay in your home a long time. This style means there are no tracks or doors, just a large opening where you can showcase your beautiful tile work.
Technology
Showers can now feature custom lighting coordinated with shower sprays, and music speakers can be integrated right into the tile. This gives you an intensified and more enjoyable shower experience. Technology also has moved into thermostatic shower technology which constantly monitors water temperature and water flow, to keep your shower perfect at all times. You can set it for different moods like relaxing or invigorating.
Combining these ideas will give you a luxury shower experience no matter what size your bathroom is or what your budget is. Use one or all of these ideas to create the luxury Northern Virginia master bathroom remodel of your dreams. Call Daniels Design and Remodeling today to start the conversation.