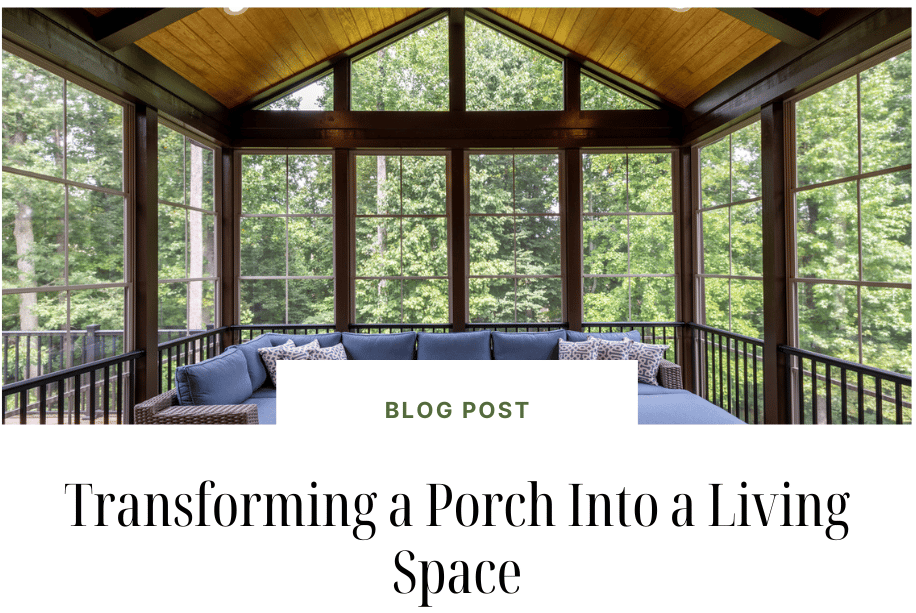 Converting a patio into a habitable room is a cost-effective way to add year-round living space to your home. This is an attractive option for households needing more room for a growing family, a dedicated working space, or simply a place to bring people together. Converting a screened porch into a room is a smart remodeling project for any home; here's what to expect.
Converting a Porch vs. a Patio
The project scope varies based on the type of outdoor living space you want to transform. Covered or enclosed porches already have some kind of walls and a roof, while an open patio is usually a concrete or wooden slab at or near ground level. These outdoor living spaces are excellent places to spend time or entertain much of the year but could be utilized more frequently as integrated parts of your home.
How to Close in a Porch to Make a Room
Turning an enclosed porch into a room is typically less expensive than building on an existing patio because the structure already has walls and a roof. That isn't always the head start you'd expect it to be, though. Enclosed porches or sunrooms may not be built to code and could fail inspection. Older porches may have rotten wood, water damage or cracks in cement blocks.
Even covered porches in good condition will need:
Insulation
Electrical wiring and outlets
HVAC integration, including ductwork and vents
Inspect your porch from top to bottom to determine if it's ready for conversion.
Start converting your porch or covered patio into a room by assessing the foundation. Wooden porches will need to be replaced with a concrete slab. Examine concrete foundations for cracks or damage.
The additional space will need HVAC ductwork and vents installed. While most small porches won't impact HVAC needs, larger additions might benefit from a ductless mini-split system.
Establish how many electrical outlets your space will need. Local regulations set minimum and maximum outlet requirements.
Many covered porches don't have adequate roofing coverage. You may need to extend your current roof to offer protection from the elements and to match the rest of your home.
Ceilings must be at least 8 feet tall, so get out the tape measure to confirm that your existing ceiling is high enough.
Working with a home remodeling expert like Daniels Design and Remodeling can make the inspection process easier. We'll evaluate all aspects of your porch or patio during our feasibility study and recommend how to proceed with your project.
How Much Does It Cost to Convert a Porch into a Room?
Expect to spend $7-10 per square foot on materials and between $150-200 per square foot for design and construction services. A 200-square-foot project with a door and windows will cost $15,000 or more, but speak with a Daniels Design and Remodeling consultant for an accurate estimate.
The total cost of your project is determined by several factors, including:
The condition of the existing porch or patio
The size of the room
The choice of materials
The number of windows
The cost of a door and its installation
Electrical and HVAC needs
Patio Conversion Tips and Insight
Give yourself plenty of time to consider your needs –  We've learned some helpful tips by helping hundreds of Northern Virginia families make similar renovations, such as:.
Wall demolition – You may want to tackle this project yourself, but be careful when removing walls. Always trust a professional when it comes to structural walls.
Let there be light – Keep lighting in mind throughout the process. Consider seasonal changes in sunlight, window size and placement and where to place outlets to accommodate lamps or other fixtures.
Turn Your Porch into the Coziest Room in Your Home
Working with design experts and an experienced craft team makes any remodeling project simple. Let Daniels Design and Remodeling handle permitting, design, material sourcing and construction backed by exceptional communication and a boutique experience. It's a great time to start your porch conversion – schedule a conversation with us today.