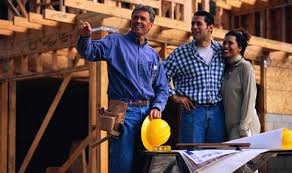 When it's time to remodel your home, you are going to have some questions. There are some very important things to consider, and Daniels Design and remodeling will be there every step of the way. Here are some of the most common questions we are asked.
How do I choose my contractor?
Choosing your contractor in Northern Virginia is the most important decision you will make. You want to choose a reputable contractor that has been doing business for a long time and who is well established in the area. Whether you live in Arlington or Alexandria, you should ask your friends and neighbors who they trust. You can also check with NARI, which is the National Association of Remodelers. The firm you choose should be fully licensed and insured in Northern Virginia. Make sure that you choose a contractor that you and your family are totally comfortable with and that you feel understands your needs. It's important that you feel comfortable throughout the entire process,and that you feel you are working with someone you can trust.
How do I interview a contractor?
Don't be afraid to ask some key questions up front when you are interviewing a potential contractor. You should ask who will be designing your kitchen, bathroom, or any other area of the house you are renovating. Also ask where in Northern Virginia they do the most work, and how long they have been in business. You should ask what recognition's and awards they've achieved, and whether they belong to any associations. Another good question is who is going to be your contact for the design schedule and the construction schedule so you can stay informed. Don't be afraid to ask any question that comes to mind.
Is your contractor a Green Remodeler?
Green remodeling makes a home more environmentally friendly, and it is becoming more and more popular with homeowners. It creates a home that is efficient, healthy and comfortable, and reduces your families carbon footprint. Green builders focus on energy conservation, reduced waste, resource conservation and using products that are better for the environment. These include non-toxic paints, energy efficient appliances, local materials, natural flooring, programmable thermostats and more. If going green is important to you, it should be important to your contractor.
These are a few of the most commonly asked questions we get at Daniels Design and Remodeling. You can check our Frequently Asked Questions page for more, or give us a call anytime to start the conversation about your next remodeling project in Northern Virginia.