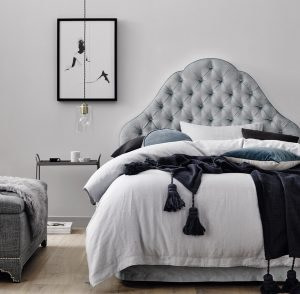 This winter, our homes are where we find a peaceful escape from the hectic outside world. In this day and age of sensory overload, the main trend is toward comfortable furnishings and textures, and uplifting colors. Design is leaning towards hand crafted elements that defy our digital world, bringing us closer to family and friends in a warm, welcoming environment.
Texture
In a rebellion against our constant exposure to flat screens, there's an emerging design trend towards texture in our homes. Furniture and window treatments that feature pleating, folding and stitching are gaining popularity, as well as chunky wool rugs. Tufted headboards and pillows in the bedroom bring a sense of softness and style to the room. Faux fur, velvet and other comfortable fabrics are part of this trend, and are part of a larger push towards comfort and softness.
Bright colors
There won't be room for the winter blahs when your home is filled with bright, vibrant colors. Interior design is leaning towards colorful hues that bring fresh new life into your home. Think of going with a daring, bright green for your walls because you'll be seeing a lot of it this year in homes, commercial buildings and fashion. In fact, Pantone has named "Greenery" it's 2017 color of the year. Cheerful, mixed patterns are also hot for pillows, upholstery, curtains and bedspreads.
Artisan accents
While D.I.Y. was once the hot trend, beautifully crafted artisan pieces are now gaining favor. One of a kind, high quality items made by craftsmen and artists are the accessories to look for. Hand blow glass vases, exquisite woodworking on furnishings, and original art all add to the uniqueness and quality of our homes this winter.
Black and white bathrooms
The classic combination of black and white is especially striking in the bathroom. This color combination is clean, bold, and an ideal choice for the bath. Consider black tile in the shower or as an accent wall, and crisp white fixtures and linens. An inlaid black and white tile floor is timeless and trendy at the same time, and a large white soaking tub can be the focal point of the room.
Classic and comfortable homes are where we can escape from the hustle and bustle of life. Use these design ideas in your home for a fresh take on old classics, and to breath new life into a dreary winter season.