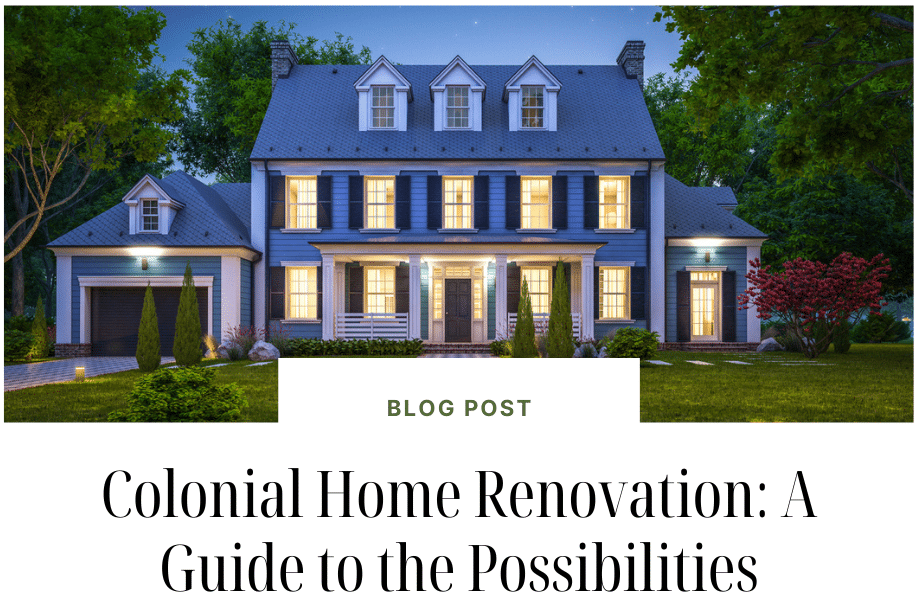 Colonial homes are one of Northern Virginia's most popular architectural styles. Also referred to as Colonial Revival, this historic design gives your home a touch of elegance and gravitas while providing plenty of space for large families. That doesn't mean that every colonial home works perfectly for every family. If the boxy, traditional style isn't what you need, a colonial remodeling project can help you feel at home.
Here's what you can do with a colonial house renovation.
Colonial Revival Architecture: A Definition
Colonial homes follow a boxy, segmented layout. While perfect for an era with no central heating, modern families prefer more space. Achieving that feel often means changing a colonial floor plan to an open concept. If you feel cramped in your living spaces, open things up and allow rooms to flow into one another.
In an original colonial layout, the kitchen, living room, dining room and other first-floor spaces are each separated into their own room. We can remodel your living area to open into your kitchen and/or dining room while leaving an enclosed space to act as an office or study.
Read more: Are Open Floor Plans Going Out of Style?
Creating a Colonial Open Floor Plan
With everything from the Colonial Revival-style homes popular in Virginia, there are as many ways to renovate a colonial as there are people who want to update them. Many Northern Virginia homeowners prioritize more space, especially at the front door and entryway. Creating more space in a Colonial Revival home makes entertaining much easier, not to mention more convenient for day-to-day living.
Opening the Center Hall of Your Home
You can create a lighter, larger feeling home by converting your center hall colonial to an open floor plan starting at the entryway. It's usually as simple as removing the walls that create the enclosed center hallway. It's a relatively low-touch aspect of any center hall colonial remodel but it creates a spacious entryway that opens into a den, dining room, workspace, or other living area. Homeowners can utilize different flooring or décor to maintain a feeling of separation between rooms without visual or structural barriers. This is the ideal way to design your colonial renovation to balance spaciousness and privacy.
Colonial Home Additions to Add Extra Living Space
While colonials are often large homes, you may find that you need more space than the original home provides. Colonial home additions can add varying amounts of space, depending on your needs. Like any home addition, you'll need to determine whether you can expand your home's footprint; if not, an over-garage addition may be the best way to go.
Over-garage Addition
Adding an addition over the garage is perfect if you need another bedroom, office, workout space, studio, or a similar room on the second floor. Because it's not over the main living area, it's also an ideal space for a home gym, enabling you to work out without disturbing everyone on the floor below. An over-garage addition also maintains the traditional colonial layout the most faithfully.
Expanding the Main Floor
One of the most common colonial home additions focuses on extending an existing room. If the kitchen or den on your main floor feels too small, add space without cannibalizing other rooms. A main floor addition allows you to expand as much as you'd like without running into the limitations of the four walls you already have. A Colonial Revival house is the most forgiving to new additions since it's already a mix of styles, but they can work with any colonial home. Our designers will work with you to create a plan for your addition that melds with the traditional, symmetrical look of a colonial.
Utilizing an Unfinished Attic or Basement
While not strictly a colonial addition, expanding into an unfinished attic or basement is an easy way to add more living space without the dust of a new build. Add a second living space in the basement or more bedrooms in a newly finished attic for a growing family. Maximize the utility of an existing space to limit costs and meet short-term needs without making substantial structural changes.
How to Modernize a Colonial Home Interior on a Smaller Scale
You don't always have the time, budget or desire for a layout-changing colonial home remodel, but that doesn't mean you can't add modern touches to the interior!
If you don't use your formal dining room often, change it up! Updated colonial dining room ideas include converting it to an office, homework room, playroom or den.
Convert an unused main floor room into a mudroom or laundry room to increase storage and decrease clutter throughout the home.
Our Remodeling Experts Help You Renovate Your Colonial Home
When you decide it's time for something new, contact the experts of Daniels Design and Remodeling. We can help you all the way from drafting up the first plans to setting the last rug and chair in place.
Let us help you make your colonial home work for you. Schedule a conversation with our designers to get started.