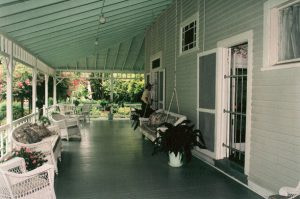 Classic Southern architecture is easy to recognize, even though it comes in many varieties. That's because houses built in the Southern style have things in common that reflect the nature of life in the south. They must be built to accommodate the hot, sultry Southern weather.  Southern architecture includes timeless, classic details. But the one element that truly defines the South's strong sense of community is the classic Southern porch.
If your home lacks a beautiful front porch, it's a wonderful idea to add one. Be sure to incorporate all the details that will make your porch blend with your existing home and neighborhood, and reflect traditional Southern features.
Go deep.
Southern front porches are wide and deep, providing plenty of shade from the sun's beating heat. They not only provide a cool place for the family to spend time in, they help keep the rest of the house cooler by shading the outside walls. Thomas Edison's winter home in Ft. Meyers, FL, which is now open to the public and is pictured above, features a magnificent wrap around porch that is over 16 feet deep. Don't be afraid to make your front porch as large as possible.
That's a wrap.
If you have the space to make your porch a wraparound porch, you will never regret doing it. A wrap around porch is the true Southern classic, with the ability to access the porch from many rooms in the house. It's the perfect way to bring the indoors and outdoors together, and create wonderful new living spaces for your family.
Classic proportions.
Our designers at Daniels Design and Remodeling will help you incorporate classic Southern style into the design of your porch. Keeping the facade of your house symmetrical and using Greek columns or square pillars on your porch are both key elements. Traditionally, white painted wood columns are preferred over stone for a truly classic look.
Adding a traditional front porch to your home adds value, and will increase your family's enjoyment of your home by a large margin. Front porches offer a cool, welcoming space to gather and greet neighbors. Front porches that are wide and deep, continue around the house as a wrap around porch, and incorporate classic design element are a timeless addition to your home.