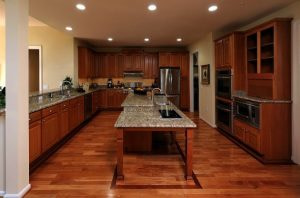 Many of today's kitchen remodels feature the principles of Universal Design. It's a smart choice for those who plan to age in place, and for those who want to increase the resale value of their home. When remodeling your kitchen, choosing the right appliances for Universal Design is an important part of the process.
A large part of Universal Design is accessibility. Smooth, non-skid floors with no thresholds and turning radius area of at least five feet are a must. While Universal Design kitchens use the same basic appliances, they are placed at different heights than in traditional kitchens. Dishwashers are raised to make them easier to access. Microwaves and ovens are mounted at whatever height is preferred by the homeowner, and the doors open to the side instead of outwardly, making what's inside much easier to handle.
Another appliance that is perfect in these kitchens is the drawer refrigerator that takes the place of a bulky, tall, full sized refrigerator. You can install as many as you want throughout the kitchen at a low height, so the contents are easy to see and take in and out.  You can also choose a drawer style dishwasher.
The counters and sink in a Universally Designed kitchen will be lower, with space underneath the sink to give ample room for someone in a wheelchair. Finish it off with a touch activated kitchen faucet that's super convenient, and you've got an attractive, modern kitchen that is safe and accessible for young and old.
Contact our experienced design team at Daniels Design and Remodeling, and we will help you create the Northern Virginia kitchen of your dreams. We are very proud to be able to serve our clients as Certified Aging-In-Place Specialists and Universal Design Certified Professionals!