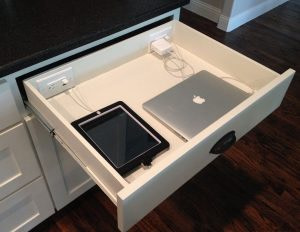 Kitchen renovations are some of the most rewarding projects. It starts with a dream. Then, the designers and builders at Daniels Design and Remodeling make it a reality. There is one aspect of modern life, however, that can make even the most gorgeous kitchen look cluttered, and that's the messy tangle of gadgets and their chargers. We've got so many devices these days, there's bound to be one plugged into every outlet! That's why many people are choosing to incorporate a kitchen technology station into their Northern Virginia kitchen remodeling project.
What is a kitchen technology station? It's a space that is designed and built specifically for all the electronic devices in our lives that need charging. These keep your devices and their cords and chargers neatly out of sight, plugged in, and close at hand, whether it's your phone, tablet, laptop, mp3 player or camera. Today's kitchens are focused on convenience and clever storage, and the trend of incorporating an out of sight charging station is becoming more popular every year.
Some creative solutions include housing a built in technology station in a drawer, cupboard, or custom made shelves or cubbies. An island that serves as a homework station is the perfect spot to install a drawer that will keep devices accessible and ready to use. You can even have a drawer for each family member. Charging stations can also be inside a dedicated cupboard.
One very high tech and cool new invention is the pop-up charging station. When not in use, it sits below the counter top and you can't even tell it's there. With one touch of your finger, it rises up out of the counter top and there are all your electronics, ready to use.
The designers at Daniels Design and remodeling have many clever ideas on how you can create a kitchen technology station for your home. You will love the convenience of having your devices charged and close by, and also the streamlined look of your de-cluttered counter tops. The addition of a kitchen technology station will make your life easier and more efficient.