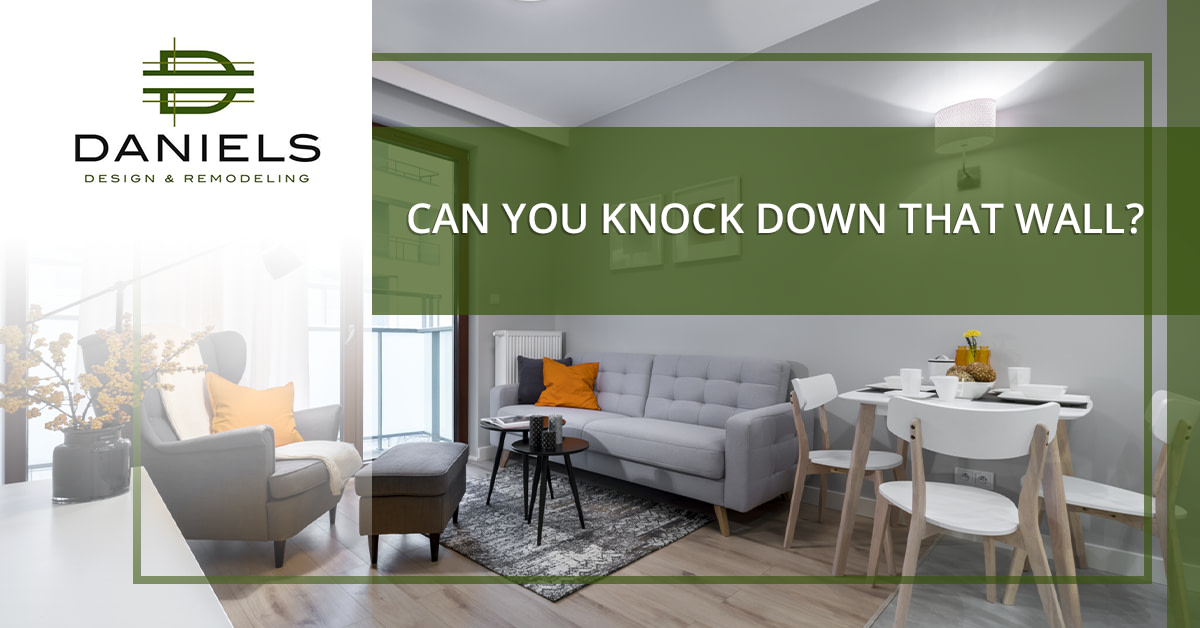 Many of us dream of the added sense of space we would get if we knocked out a wall of your home. Taking down a wall creates an open floor plan and many more design options. Whether it's the wall between the kitchen and dining room, kitchen and living room, or the living room and dining room, you've longed for the space taking down a wall would create. Before you can go ahead with the project, it's a good idea to consult with a professional remodeling contractor like Daniels Design and Remodeling. We can help you consider all the factors involved before tearing down an existing interior wall.
Some walls are more important than others.
There are two different types of walls inside a home. Some are merely partitions between two rooms, while some are actually holding up your house. We can help you determine if your the wall you want to remove is a load-bearing wall or not. If it is, you can usually still open up the space by installing a support beam or columns, or just widening doorways instead of taking out the whole wall.
You don't know what's in there.
Another very important factor to consider is what is inside your wall. All sorts of things may be lurking in there like pipes, HVAC vents, electrical wiring, cables and more. We will be able to advise you whether you'll need one of our certified electricians or plumbers on the project to reroute your lines. The most important thing is getting an accurate snapshot of what is actually going on inside the wall before you go into demolition mode.
What's left behind?
Don't forget that once the wall is removed, the floor and ceiling where it once was will have to be repaired and painted. It's best to have our skilled professionals take care of matching your flooring back together or installing a threshold, repairing the ceiling so it looks seamless, and matching any trim around the baseboards. Once these are complete you won't be able to tell the wall was ever there.
Opening up your home by removing a wall is a rewarding project, and the Daniels Design and Remodeling team can guide you through every step of the way. Be sure to consult a professional to make sure your wall is taken down safely. Your family and friends will enjoy your new open space for years to come.