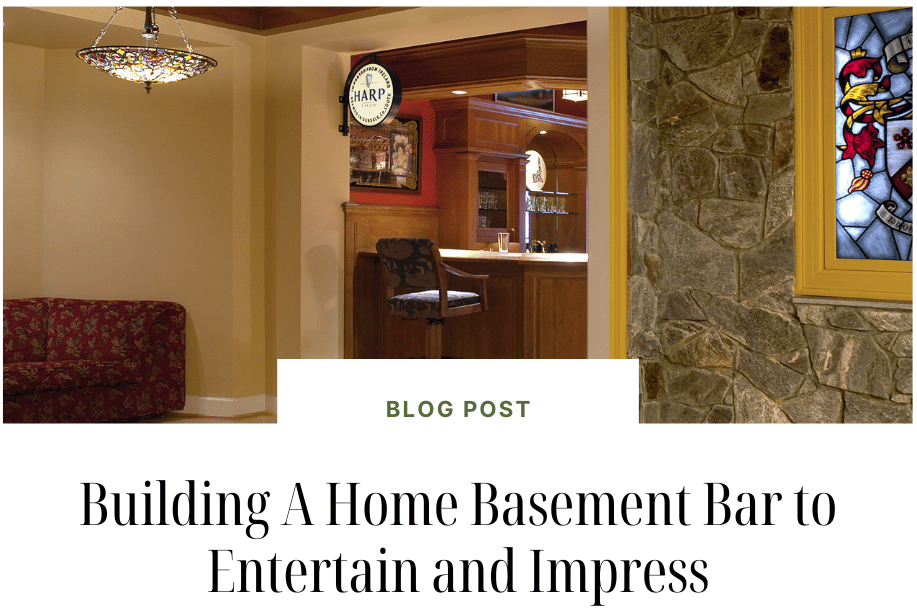 If you're looking for more entertaining space, redesigning your basement might be your next remodeling project. One of our favorite design elements for these projects is creating a custom-built basement bar to make entertaining convenient. From choosing the right materials, including a sink, stove, or under-counter fridge, to determining how much space you'll need, Daniels Design & Remodeling has the experience to make decisions confidently.
Perks of a Basement Wet Bar
Installing a custom basement bar is an excellent way to create a fun, inviting space to relax, unwind and entertain. The home basement bar is a uniquely American home design element that gained traction in the 50s and 60s. The drink carts and cabinets that were once common in living rooms were slowly transitioned to the basement and often paired with record players, big TVs, and bar stools.
Initially, home bars were more prevalent in suburban or rural areas because they made gathering with friends at home more convenient. Today, they're often a design priority as a part of a complete basement remodel.
Homeowners love designing around a basement bar because of the utility these features provide, such as:
Additional seating for meals
Convenient storage location for food and beverages
Ideal space to entertain
Great expands livable space for the whole family
Related: Does a Finished Basement Add Value?
How to Design a Basement Bar for Your Unique Needs
An expertly designed bar will provide adequate seating, storage, and counter space to prepare drinks and meals. Getting the dimensions right is important to optimize the use of space, especially if you're pairing the bar with a dedicated in-home movie theater or media space. Check out these five downstairs bar ideas:
1. Go for a mini fridge
Storage is crucial for any home, but it's especially important if you're looking to prepare or store food. In addition to dry food storage space, such as a closet pantry, determine how much refrigeration you'll need. Smaller, in-counter fridges provide easy access to chilled foods with a small footprint, but you'll be limited to storing just the basics.
2. Use wall-mounted storage
Floating shelves and other hanging storage options expand storage capacity and clear precious counter space. Consider hanging wine glasses and other drinking vessels from floating shelves and look for other ways to move must-have items like silverware, wine bottles, and even napkins off the counter and into cupboards and drawers.
3. Keep it bright
Heavy wood paneling or dark-colored cabinets offer a unique aesthetic but can make your basement bar, which already lacks natural light, even more dark. Use bright colors and light fixtures to keep the bar top and serving area well-lit. This will also help you prepare food and drinks more easily!
4. Determine dimensions
Before any remodeling project, our team spends a lot of time determining how best to use every inch of an existing or proposed space. Think of how many guests you typically entertain, how often you'll use your basement bar for meals, and how the bar area will interact with other parts of the basement. Your Daniels Design & Remodeling feasibility study will help shape the basics of the design, but we rely on your input to make the project perfect!
5. Get cookin'
Make the most of your basement bar with an oven and stovetop! Investing in a full oven makes preparing food for guests more convenient. It's also handy if you consider using your basement as a short-term rental or a more private living area for long-term guests.
How Much Does It Cost to Build a Basement Bar?
The cost of building a basement bar will depend on the scale of the project, the materials chosen, and how much electrical and plumbing work is required. In most cases, our custom basement bar designs are one component of a more long-term living space project. Contact us today to learn more about our services.
Does a Basement Bar Add Value?
Basement bars don't increase your home's value to all potential buyers, but they're a big plus for many prospective homeowners. The right bar could make your property more attractive to the right family. A basement bar is a wise investment if the design and look enhance its value to you and your family.
Start Designing Your Basement Bar with Daniels!
Since 1997, we've helped families across Northern Virginia enhance their homes to meet their changing needs. Our expert designers and construction teams offer a boutique home remodeling experience that removes the stress and uncertainty of the renovation process and allows homeowners to enjoy the results. Let's get started; schedule a conversation with us today.