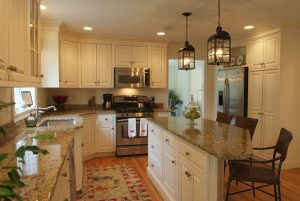 When it comes to a smoothly functioning kitchen, one of the most important decisions you can make in your Arlington VA kitchen remodel is the layout. Your choice will depend on your square footage, the shape of the kitchen, and what you are looking for in functionality. Here are a few details about the most popular kitchen layout choices.
Work Triangle
This design is often cited as the most efficient kitchen layout. The work triangle design has the range, sink, and refrigerator at three different points in the kitchen, forming a triangle traffic pattern. This cuts down on the amount of walking around you have to do when preparing meals.
Galley
A galley kitchen is also known as a corridor kitchen or a Pullman Kitchen. This is when there are two runs on either side of a narrow kitchen. A galley kitchen's simple design usually has the sink on one side of the kitchen and the range within reach on the other side.
L-Shaped
An L-Shaped kitchen is just as it sounds. With an L-shaped kitchen you have one wall of cabinets with the range or sink, and another shorter wall of cabinets in an L shape. This design is more private for cooking and keeps traffic out of your cooking space.
Zones
A zone design separates the kitchen into different work stations. Each area is designated for a specific task, like food prep, cooking, eating, storage, and cleaning. Zones can also be incorporated into other kitchen designs.
U-Shaped
U-shaped kitchens are probably the most popular shape today. They incorporate a large center island with the rest of the kitchen arranged on the walls around it. This design gives cooks a huge amount of counter and storage space, and encourages guest to hang out in the kitchen and chat with the cook.
At Daniels Design and Remodeling, we are there to help you every step of the way with your Arlington, VA kitchen remodel. It all starts with the layout, and our professional designers are standing by to help you make all the right choices. Call us today to start the conversation.